Public Property
Sam Peter Jackson
Trafalgar Studios
(2009)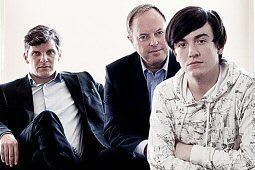 At first glance, Public Property is a boilerplate Trafalgar Studio 2 production. Recognisable faces: check (Robert Daws, Nigel Harman and even Stephen Fry, phoning it in via vid-cameo). Humour that doesn't tax the brain: check (sight gags and comic situational escalation best enjoyed after a glass of wine in the bar). Skilled but slightly overly wordy scriptwriting: check (courtesy of Sam Peter Jackson).
On closer inspection, however, this is something of a rare find: a play about three gay men in which the characters' sexuality is almost incidental, an extra thematic layer rather than the piece's raison d'être.
Daws is celebrated newsreader Geoffrey Hammond, who throws himself on the mercy of his ruthless publicist, Larry De Vries (Harman) after being caught by paparrazzi in flagrante delicto with 16-year-old Jamie (Steven Webb). Geoff does protest once or twice that the press wouldn't be interested if Jamie had been a girl, but the play is more concerned with celebrity, PR and fickle public goodwill than "LGBTQ issues". Geoff knows, despite his protestations of innocence, that this incident matters more to his reputation than any number of broadcasting gongs, and even Larry is branded repeatedly by his lowest point: the media only remembers him for being booted off the judging panel of a failed reality show.
It's often difficult to feel any sympathy towards Geoff, who really has only his own indiscretion to blame for his downfall, but Daws does an excellent job of showing the desperation behind the bluster, and his raw vulnerability when talking to or about his offstage lover Paul provides the production's tenderest moments. Harman is believable whether smooth-talking and in control or plain incredulous at his client's behaviour, though he flips a little too easily between the two modes, and reacts so little to mentions of Larry's debts and vices that they seem more a throwaway subplot than an integral part of the character's backstory.
Jackson's script, too, is generally sound, though a bit baggy towards the end of Act One, and overly reliant on the repeat-repeat louder-shout-shout-pause formula for writing arguments. Like most Studio 2 shows, Public Property has its flaws, but is still a satisfying enough night out; and it boasts the additional merit of sidestepping the damaging and judgmental "gay play" label which, given its premise, it could easily have been slapped with.
Reviewer: Matt Boothman