Pulse Festival
Isley Lynn, Eden Harbud, Rory Horne
Nikki & JD, Hoipolloi, Rive Productions, Argonaut Theatre, China Plate
New Wolsey Theatre
–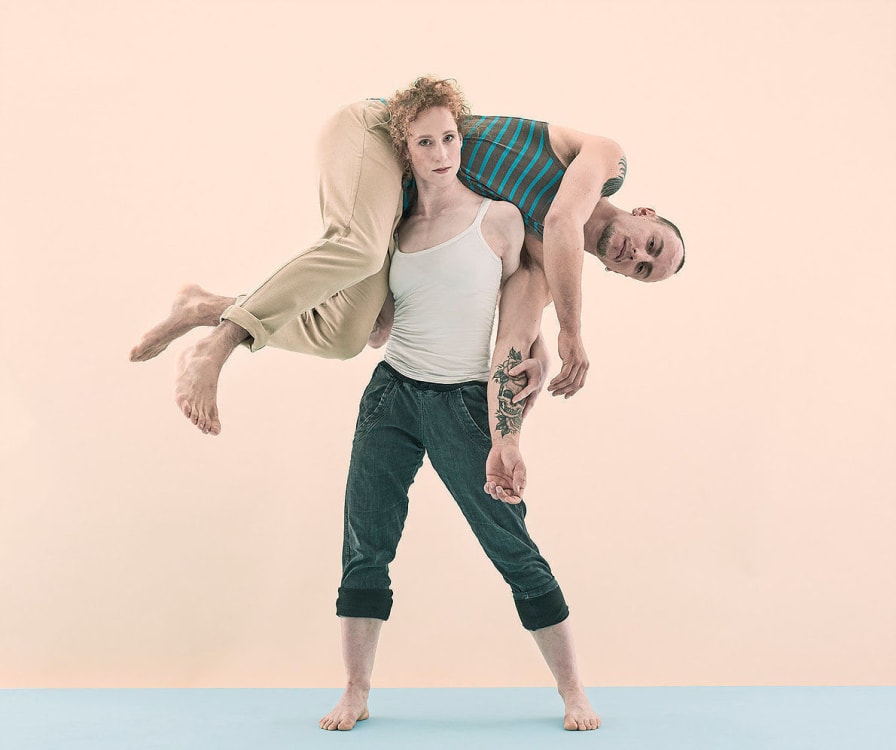 The Pulse Festival has been running at the New Wolsey Theatre in Ipswich for 18 years and from early beginings it now produces a varied programme of new work over 10 jam-packed days—some fully formed, some works in progress—but everyone with something to say in a time and a country where increasingly art struggles to maintain is voice in the face of cutbacks and lack of funding.
The festival is produced in association with China Plate. Here is a selection of work from the first few days of the festival.
Knot – Nikki & JD
Opening act of the festival was a performance of beauty by a duo who describe themselves as hand-to-hand acrobalance artists on their web site. But this didn't do justice to a performance that was a combination of contemporary dance and fluid gymnastics telling their very modern love story via the medium of movement and commentary.
Two people meet, fall in love, start working together in the most intimate way—yet one is gay and so cannot consummate the relationship in the traditional sense. Yet through their work they become as close as two people can be, maybe at the expense of forming other relationships.
The Knot of the title refers to the invisible string that runs through any strong relationship—however it's made to work.
This is a well constructed and beautifully performed piece, with both performers fully in control of the space and the material in a way that makes it all look easy. With a complementary selection of music, this is both a joyful and a poignantly emotional experience.
Me & Robin Hood – Hoipolloi
Shon Dale-Jones has been to Ipswich many times before and I've seen most of his shows. I must admit I enjoyed his earlier work as his alter ego Hugh Hughes which combined storytelling with clever use of media and objects. Now it's just him and a bare stage—and a cause to bang on about.
The story weaves between his childhood in Anglesey—with his best friend Dylan as they get into scrapes, join the under-11 football team and play at being Robin Hood—and the present day where, as an adult, he had become fired up about the constricting role bankers and money play in our lives.
Childhood Shon finds the key to a bank safe and sets about persuading the rest of the football team to rob the bank with him. Adult Shon ends up being arrested for protesting outside the local bank branch when he finds it increasingly difficult to pay his mortgage.
Shon is an engaging performer and holds the stage and the attention. The ultimate aim of the piece is to make us aware that, however hard up we feel, we are not as badly off as third world kids. He's raising money for the charity Street Kids United with a bucket collection at the end of the show and since 2017 has raised over £20,000.
But somehow being banged over the head with this concept just reminded me of my mother's phrase when as a child I stared at a congealed plate of rhubarb and custard: "eat it all up—there are children starving in Africa you know" to which I would reply in my head, "well they're welcome to this, but I don't think I can get it to them".
There is no doubt there is a lot of poverty in the world and I think especially in this country we are very aware and engaged—think Live Aid and Children in Need. But the role of the big charities has come very much under the spotlight in recent months so maybe there's a different discussion to be had now on how the mainstream organisations have morphed into the very thing Shon abhors—and that maybe just giving money is not the way forward anymore.
Skin a Cat by Isley Lynn – Rive Productions
This powerfully visceral, yet surprisingly humorous, play about the awakening of womanhood in an awkward, modern teenager seems to have been doing the rounds since 2016, but it's no less relevant for that.
Three actors, Lydia Larson, Libby Rodliffe and Joe Eyre, take us on a journey with Alana from her first period at 9 years old, which her rather emotionally distant mother handles very badly, through her attempts at losing her virginity, her long-distance relationship with her first boyfriend, sexual encounters at university, a complicated relationship with an older man and her gradual realisation that she can approach sex in her own way without having to follow the crowd.
This could have been an awkward and cringeworthy piece—or just out to shock—yet it is instead very sensitively portrayed and staged, never veering over onto the mawkish or crude. Lydia Larson portrays Alana with a vulnerability and understanding that empathises with all of our fumbling, excruciating first encounters with puberty and sexual awaking. The other two actors play a variety of characters with just a change of voice.
The piece is fluid and absorbing and makes the main point: we all want to fit in, but we really don't have to.
Burning Tails by Eden Harbud
This is very much a puppet show for adults written and performed by engaging Cambridge-based artist Eden Harbud. Using cuddly toys—squirrels, frog, foxes—and what appears to be homemade props and written-out signs, Eden tells the story of a suicidal, chain-smoking fox whose relationship has gone awry. Yet only halfway through the piece, you realise through taped voice-overs that this is actually a child playing with his sister's toys.
Very clever and well constructed, with great use of sound and lights. Shame about the language as it means it's limited to 14 plus.
Action at a Distance by Rory Horne - Argonaut Theatre
Argonaut was founded in Norwich in 2017 by writer Rory Horne and director Nina Cavaliero, graduates from the University of East Anglia. The company was recently announced as one of the New Diorama Theatre's 2018/19 Graduate Emerging Companies. This is its debut production.
In a small Nevada town, out-of-work plumber Chris, played by Rosa Caines, stumbles across Josh (Dom Luck) while exploring dating sites, a charity worker and data analyst exposing the truth behind US drone strikes in Syria and Iraq. She at first wants to impress him and win his approval, but her irascible mother (Nina Cavaliero) is dying of cancer and they haven't got any money for treatment, but Josh has found a way of making money by betting on the dark web.
Chris offers to help him run the betting in order to make money for the charity. Her aim is to make enough for both of them. Yet her need becomes her obsession and she ends up being hooked into a scheme that exploits the very acts of violence the charity is trying to expose.
Well written and performed—a moral tale for our times.
Reviewer: Suzanne Hawkes