Pumpgirl
Abbie Spallen
Bush Theatre
(2006)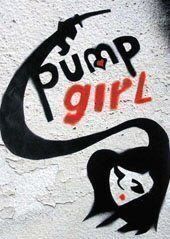 The setting for Abbie Spallen's troubling three-hander is a rundown roadside garage in Southern Armagh, just beyond Newry, at that tantalising point on the Irish east coast where sterling meets the euro.
Wise motorists drive past, preferring to cross the border for cheaper petrol and agricultural diesel unstained by marker dyes. But womenfolk from the nearby estate visit its mini-mart for a sliced loaf, cheap sweets or a carton of milk, while Hammy has taken to topping-up his turbocharged Toyota Celica, sweet-talking the Pumpgirl who is one of the lads and good for a quickie in the back of his car.
Although collecting benefit, Hammy also moonlights at a stench-filled battery farm down the road, hosing the cages and disposing of diseased birds. But at weekends he gets his kicks as the local stock-car racing champion, standing atop a rickety rostrum of orange boxes covered with bits of fake lawn, to collect his hard-won trophy.
Meanwhile Hammy's long-suffering wife Sinead has found a friendly, educated guy, an ex-con who runs a fruit-stall in the Newry market, and who enjoys making love to her in the spare room of the family tenement when she's not otherwise engaged collecting the kids from school, making their tea or keeping her boozy husband at arms-length as he tumbles drunkenly into their marital bed. But the consequence for her may be an unwanted pregnancy.
This 90-minute play was premiered on the Edinburgh Fringe Festival where, set against a host of rival, lesser productions, it attracted enthusiastic notices from BTG reviewers. But now transferred to the Bush in London, Mike Bradwell's stark staging, furnished only with a broken-down petrol pump offering 'kerosene', comes under closer scrutiny.
The first thing to mention is that the Irish border accent is not readily penetrable to English ears (although at the press night a group of ex-pats caught and laughed at almost every word). That said, the three performances are never less than watchable, particularly the gorgeous Maggie Hayes as Sinead, who hides her stunning beauty under a careworn appearance as a wife and mother, unhappily married to a boastful lout.
As a colleague of mine was to remark after the performance, this actress is surely set to fill both the glamorous and the bruised womanly roles hitherto cornered by Lauren Bacall.
It might be claimed that James Doran, who portrays Hammy as a tough guy with well manicured nails, is miscast as a man who has his fingers deep in chicken shit weeknights, nicotine stained and blackened with automobile grease for the rest of the time.
But his performance is a constant renewal of optimism against all odds, and his involvement in a gang-rape is revealed as the reason why he can no longer relish his life; depicting a sad, fatalistic departure from consciousness, a suicide to the sound of Glen Campbell's tuneful serenade to Phoenix, Arizona, on his car stereo, as the engine pumps out its kindly lethal gases.
Finally there is the hugely promising talent of Orla Fitzgerald as the Pumpgirl, a young actress who reveals a slightly alarming ability to pick on a single audience member for her secret revelations, but also gives structure and energy to those scenes where she spots Hammy, at a distance, surrounded by his wife and kids, and the crucial moment when she has those children in her tender care, potential victims of infanticide.
She also brings a marvellously dreamy quality to her recollections of what might otherwise have been the traumatic gang-bang, and which will lead to crucial consequences for the middle-aged men who took part,
Other reviews have likened Abbie Spallen's play, an interwoven trio of monologues, to a somewhat similar work by Conor McPherson, whose Bush Theatre classic, This Lime Tree Bower, was recently revived at Theatre 503.
But I strongly suspect the author's more likely inspiration is Brian Friel, whose Faith Healer, similarly framed, lives in a parallel world of Irish rustic menace, betrayal, poverty and utter desolation.
Reviewer: John Thaxter