Punch Drunk
Vincent Dance Theatre
Traverse, Edinburgh, and touring
(2004)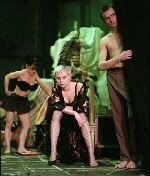 It's a joyful, goofy, no-holds-barred bonanza of gags, giggles and slapstick comedy. It's also sombre, dark, and disturbing. Welcome to the backstage, morning-after, hungover world of Punch Drunk. An evening of vignettes ranging from the beautiful to the bitter, Punch Drunk fuses theatre and dance in a reeling romp through a landscape of cabaret comedy.
From the off, Punch Drunk highlights how lonely and ludicrous the creative process can be. Begun with a Beckett-esque repeated revision of an entrance ("Shall I enter this way? Or this way?"), it lays its own trap - how to open the show, how to take the stage? - then manages to skirt the issue altogether. For this is neither a single narrative, nor simply diverting entertainment, nor abstract physical theatre: its a cascade of snapshots that form a collage. The story that emerges from between the layers is one that began before the theatre opened, and continues after last orders are called at the bar.
The set evokes backstage dressing room: chaotically messy, the props and stage structures exposed, sandbags swinging and light bulbs glaring. The audience sits not so much in the seats at the circus as behind the scenes, witnessing the competitions, cat fights and seductions of a disfunctional family of misfits and freaks.
It's here in the after-hours that the flashiness fades and the humanity emerges. If the duet where a man pushes a woman to the floor or the male solo performed in silk panties and silver heels are disturbing, that's because truth can be hard to swallow. Like the honesties aired in an evening of drunken candour and regretted the morning after, these characters seem driven by the need for candid self-exposure. They lunge into the limelight and demand applause; they show off, perform tricks, slap, kick and scream for attention. Then self-awareness strikes, and they back-pedal, humiliated, desperately attempting to divert attention elsewhere. Exhibitionism, voyeurism and hyperactivity give way to self-consciousness, resentment and violence in a manic-depressive see-saw of moods. The result is exhilarating if somewhat exhausting - after an hour, the audience has come to know the pattern, to wait in anticipation of the next flare up of hysteria.
VDT's performers are a motley crew, and from their diversity they derive real theatrical strength. From the technique and explosive energy of the exquisitely tiny powerhouse TC Howard to the lanky, facially expressive lounging and strutting of Patrycja Kujawska, each performer's unique skills and strengths are exploited in a unifying whole.
Lindsey Butcher's aerial skills are no side attraction - they're beautifully integrated with the drama on the ground.
Punch Drunk is technically and theatrically demanding, energetically relentless, tightly choreographed. It's also full of gems. Howard's solo performed in a puddle of bathwater and wet confetti is poignant, sexy, dripping with desire and regret. Minutes later, she's playing an accordion, head thrown back, gargling water. It's no show for those who crave continuity, linear development, or 'serious work'.
These performers are highly skilled and technically excellent, but they don't let their technique interfere with their performance. Even in the most physically demanding sections of dancing, every one of them is alive with comic timing. "Drop your chin. Relax your shoulders. Smile. Your hips should face this way, not that way. You should practice more," says Kujawska to Butcher, leaving her drooping with dismay while the audience hows with delight. Yet technical finesse and plenty of practice surely lie behind the seemingly effortless comedy. As the lights fade slowly on Kujawska, her recognition of the dimming spotlight creeps visibly across her face, and at the last moment she reaches out in comic supplication, only to be drowned in blackout, and a sea of applause.
Reviewer: Elizabeth Schwyzer