Punk Rock
Simon Stephens
Royal Exchange Theatre, Manchester
(2009)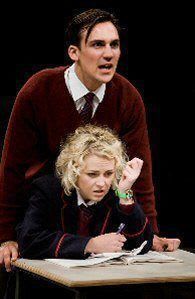 The Royal Exchange Theatre in Manchester has co-produced this new play from playwright Simon Stephens with Lyric Hammersmith and now gets the second leg of the production after its debut at the London venue.
Stephens goes back to his Stockport roots with this play set in a fee-paying Stockport secondary school amongst a small group of sixth formers who meet regularly in the old library which has been abandoned by the rest of their Internet-obsessed schoolmates. New girl Lilly is adopted by odd William whom she likes as a friend but she prefers to go out with sporty Nicholas. Cissy has a strong line in acidic put-downs, but her boyfriend Bennett soon shows his true colours as a manipulative bully, especially with nerdy Chadwick and Tanya, the only one who speaks out about his behaviour. As Bennett's behaviour gets more extreme, William's mental health seems to deteriorate, creating an explosive clash towards the end.
Stephens has assembled a collection of modern school character types such as could be found in Grease, High School Musical or The Breakfast Club: the sporty one, the fact-obsessed nerdy one, the weird one and the bully, with the new girl as a useful device to introduce them all to the audience. They all talk in a rather formal way that I've never seen teenagers speak with handshaking and long speeches, but then perhaps things are different in private schools. In some ways it seems like the play could be set in a past era before mobile 'phones and television but in modern dress.
There are some entertaining, sometimes funny and sometimes very tense, scenes as the teenagers play power games and obsess about sex, relationships and exams, but ultimately there is far too much in this play that just doesn't ring true. This group of young people with very little in common with one another meet in this same place between lessons despite the arguments and the bullying and everyone does exactly what the bully says without complaint and without it apparently occurring to them to go somewhere else instead. Adults are kept out of the play except by reference, but this does at times feel a little contrived. The ending is quite easy to guess from the events in the drawn-out scene before between William and Lilly, and then an extra scene is tagged on at the end that serves no real purpose.
The play is performed by a very strong ensemble of largely inexperienced and young actors. Tom Sturridge makes a very impressive stage debut as William, giving a very intense and convincing performance even if his accent is rather difficult to place. Jessica Raine also gives a strong performance opposite him as Lilly. Katie West as Tanya is probably the most convincing as a teenager, and Sophie Wu gets the most out of the bile and bitchiness of Cissy's dialogue without making her character unsympathetic. Harry McEntire gets across the hurt and the pride of bully victim Chadwick very well, just as Henry Lloyd-Hughes relishes the slimy power games of Bennett. Nicholas Banks is the quiet and laid-back Nicholas, Simon Wolfe appears just in the final moments as the psychiatrist and Emma Warburton makes a brief appearance as Bennett's sister Lucy.
Paul Wills has designed a simple set that consists of a circle of tables and chairs with old library desks extending down the aisles and books hanging from chains in the ceiling. Pete Rice's sound design creates scene links by chopping up bits of hard rock songs – which don't fall into the era of the punk of Stephens's enigmatic title or into modern day music – with other noises, gives them a harsh, tinny sound and brings them in suddenly at very high volume. Sarah Frankcom's direction keeps the action tight and pacy, but for some reason some of the dialogue overlaps in a quirky, unrealistic way.
There are plenty of good points about this play and the production, but overall it is quite an uneven theatrical experience with a very bleak outlook on teenage life and the future of the planet. It runs at around an hour and fifty minutes without an interval.
To 31 October 2009
Philip Fisher reviewed this production at the Lyric, Hammersmith
Reviewer: David Chadderton