Puppet Grinder Cabaret

Little Angel Theatre
(2009)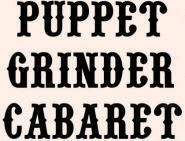 The unique Puppet Grinder Cabaret returns to the Little Angel for three nights previewing its Edinburgh show. I wonder if that name does it justice - you might go in with foreboding, expecting a night of Team America-style erotic puppet liaisons, whereas only three of the acts actually feature live puppetry in some form. And while most of the acts are enjoyably twisted, there's no actual on-stage string-tangling to be seen.
It's a real rag-bag, compered with bounding enthusiasm by Dave Gibson. He divides us into two teams for no particular reason than to get us to shout our team name every once in a while. Despite his efforts, it's not really a comedy night, and there's no place for audience participation in most of the acts really - but that's fine: one or two are so good they deserve the stunned silence that they get.
Of the eight pieces three are short films. Two are really very creepy, and make the most of the sense of alienation generated by their medium. One is a very rough plasticine animation with a deliberately ugly boy (or man?) trying to clean his mess of a room in time for a lady visitor's arrival. The sound is all crunches and squelches, it genuinely makes you squirm, and as he patters around with his unnaturally pursed lips it looks like Pingu gone horribly wrong.
Another is a simple shadow-puppetry film, its story in the same erring-children-suffer-horrific-punishment vein as something like Shockheaded Peter - again nicely effective. The third though is ridiculous perky entertainment from Clementine The Living Fashion Doll, well known from previous Edinburgh shows and TV spots on ITV and (ahem) BBC Norfolk. She gives us a spoof silent movie full of mock hands-on-cheeks screams and swoons, telling of her escape from a traveling freak show. It's a bit funny and a bit dirty, but the novelty wears off quickly.
There's some straightforward entertainment from ventriloquist Josh Darcy who does a nice little skit with his bear companion before inexplicably launching into a Shakespeare monologue spoken without him seeming to speak. To my untutored mind though his skills aren't world-class, seeing as we can see his mouth move - perhaps it is a case of conversing so quickly that the audience can't notice, in which case he needs to up his pace.
Deborah F. Rothenberg performs a traditional German folk tale The Queen of Sheba, standing behind a white sheet and projecting images and cut-out figures onto it. The drawings are so shoddy, the cut-outs so rough and the tale so simple that it can only be meant ironically: but for this to work we need Rothenberg to intone the verse with absolute deadly seriousness, and instead she makes mistakes, giggles and excuses herself repeatedly. It makes it unintentionally funny rather than anything else.
However the final act is very good stuff: Suitcase Circus present their own mini-cabaret, compered by a foul-mouthed French sock. It's Oliver Smart's hand-puppetry with live guitar and drums accompaniment from Matt Short; they have a tea jug seductively singing Kylie Minogue, and a glove-puppet performing a daring tightrope act as Smart walks him along a suspended piece of string - our hearts in our mouths. Finally, an audience member assisting a feather-duster-swallowing puppet leads to tragedy. The two performers stare at the audience accusingly. We make sounds of consolation and distress. Thoroughly twisted.
The two picks of the night, though, are Robert Bidder and Andrew Dennis. Bidder enacts a deadpan conversation, represented by him flicking between two vaguely-drawn faces projected onto a screen, in which a strange news story is told of a British bloke collecting Chinese women's hair, and a resultant dead whale. Definite "wtf" factor, but brilliant for it. Dennis, the first act on, looks so young you fear for his nerves, but performs with such front and such control that he's mesmerising. He acts a short Charles Bukowski story of (typically) the narrator's boozy, messed-up night at a friend's wedding. Props become characters: a leather jacket becomes the washed-out boxer on the next table; a pair of glasses and a sock on his hand become a karate-chopping Buddhist monk. It's so very weird and sublimely skilful.
He made me think that this could have been a different sort of evening, if all of the acts had shared this macabre, alienating quality; if they had committed, in a way similar to companies like 1927, to never dropping their theatrical illusions and thus never putting an audience at ease. As it is the Cabaret has gone for diversity over any sort of overriding aesthetic, and it's an entertaining night: but doesn't linger like it might have done.
Reviewer: Corinne Salisbury