Pushkin
Composer Konstantin Boyarsky, librettist Marita Phillips
Novaya Opera, Moscow
Grange Park Opera, West Horsley Place
–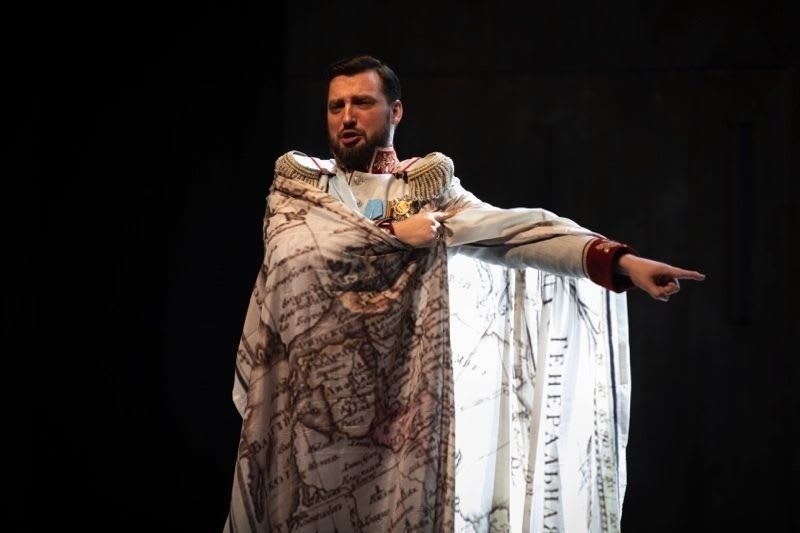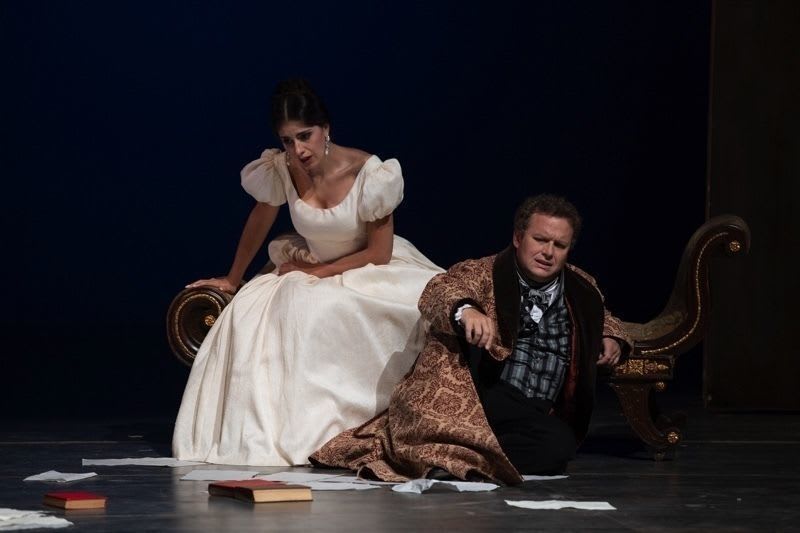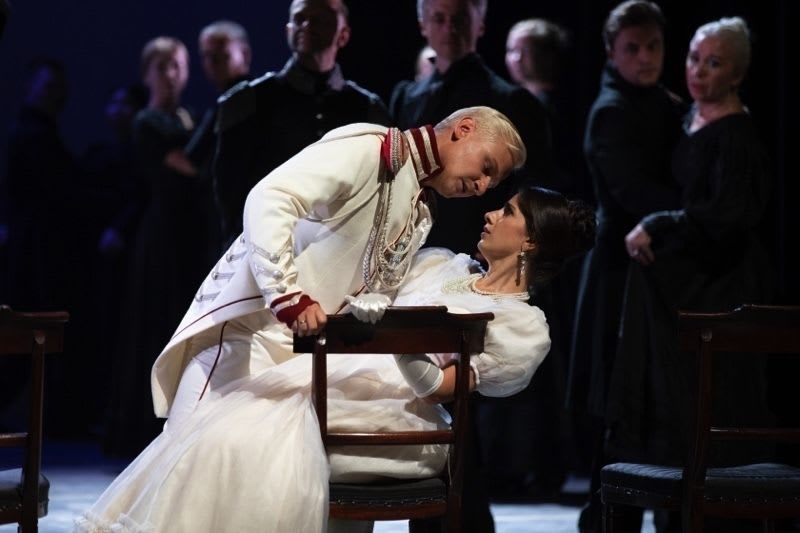 It's unusual for England to make it to the semi-finals, but Grange Park's Pushkin was a true first time ever. Shunning the television for genteel picnicking and live theatre also ended with victory after a superb first night.
Grange Park has invited the Novaya Opera House in Moscow into their woodland theatre, orchestra, chorus and all. The opera is the brainchild of UK-born librettist Marita Phillips, who happens to be the great-great-great-grandchild of Alexander Pushkin and Tsar Nicholas. This link seems to have stood her in good stead, as she captures the tumult of the tortured artist, whose censorship drives him to the edge.
Phillips writes the dialogue in English, but quotes from Pushkin are in their native Russian tongue. She is paired with Russian composer Konstantin Boyarsky who is principal viola player with the Royal Opera House.
This is a real show of two halves: Pushkin opens with a great tumult of brass and unison chorus. This gives way to a lyrical tonality, almost filmic at times. Throughout, Boyarsky experiments with the instrumentation: from lush romantic strings though to frenetic brass which leaves the score feeling quite piecemeal throughout act I.
However, the instrumentation comes together as a whole for the second half and a building frenzy in the score mirrors Pushkin's crazed demise onstage, giving the whole second act much needed impetus. This is interspersed with romantic orchestral numbers, which paired with Director Igor Ushakov's ingenious tableau work is a delight to watch and listen to.
These moments without singing are some of the highlights of the opera—always worrying—but Boyarksy proves he can write exquisitely for voice with the inclusion of Baron Heckeren's (Yarasav Abaimov) Russian Song opening act II. Abaimov delivers this with great vocal mastery, able to sing with a touching pianissimo coloured with regret.
Marita Philips's libretto is poetic, beautifully reflecting the title figure. A Russian cast singing in English is a little surprising—though there is excellent diction from the men but very wayward pronunciation from all the female leads.
Jan Latham-Koenig conducts with aplomb and the Novaya orchestra plays with great fire. Ushakov directs this show with few props and scant scenery, but makes striking images using the large chorus to maximum effect to create the locations. All movement onstage is clearly choreographed (Sergey Satarov) and this stylised direction makes Pushkin into a visual spectacle, whilst emphasising the status of each character. This is paired with beautiful costumes by Irene Belousova and a strong lighting design by Timofey Ermolin.
The one British member of the cast is tenor Peter Auty, playing the Russian genius. He proves an extraordinary actor who really embodies the role of this mistreated poet. Vocally, he starts strong but his voice became uncomfortably squeezed throughout the performance. Natalya Goncharova (Pushkin's wife) is sung by Julietta Avanesyan who performs with a beautiful ringing tone, with consonants few and far between.
The white wolf, D'Anthès taunts Pushkin with his adoration of the poet's wife. Anton Bochkaryov performed the role with great energy and verve, displaying a fine high tenor voice. The Tsar (Artyom Garnov) cuts a dashing figure in his coat tails, his upright posture and exacting movements adding to his powerful status as an unyielding leader.
The standing ovation spoke volumes at the end of this dramatic first night. With only two performances at Grange Park, let's hope the production is snapped up by more houses around the world.
Reviewer: Louise Lewis