Puss in Boots
Tony Lidington
Georgian Theatre Royal
Georgian Theatre Royal, Richmond, North Yorkshire
–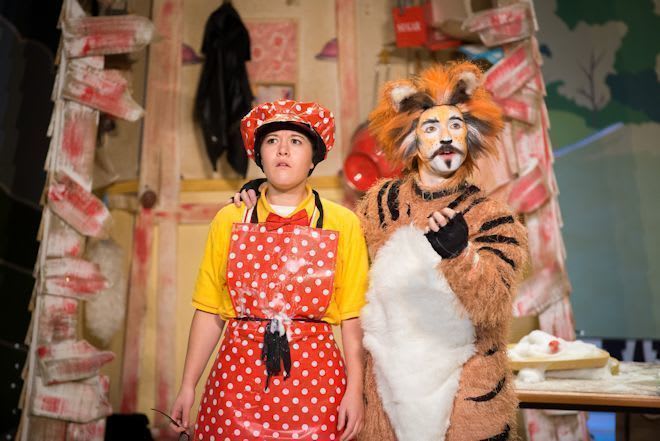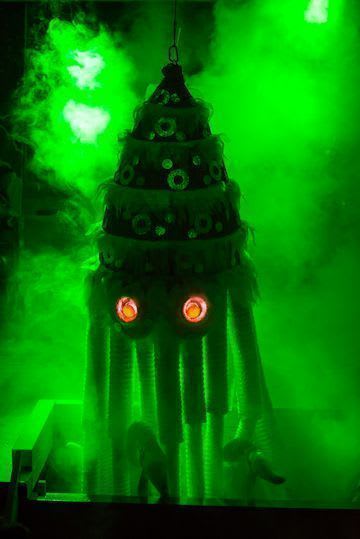 Genetic engineering, fracking, rampant materialism, a trip to the moon and spaceships - and no, you aren't in the wrong review, this is Puss in Boots breaking the mould. Writer and director, Tony Lidington tells us that traditionally the job of a pantomime in history was to reflect controversial topics of the day. And why not?
The action starts in Monsieur Santo's science laboratory, although thankfully James McClean does not appear to be genetically modified - well, not at the beginning anyway. He is, however, a faultless baddy, because he's about to do a bit of fracking under his tenant's flour mill. It doesn't take much imagination to guess what sort of humour lives here. Agricultural of course - what were you thinking?
Ada Grinder hasn't paid the rent on the mill, or ground any flour, for months. Her family need to think of ways of earning money. A local dignitary, Evadne D'el Monte, is looking for someone to make her daughter, Doris, a cake for her eighteenth birthday. Ada agrees to bake the cake but the family have to buy flour from their landlord Mon. Santo. A cake-making, slapstick scene ensues, which - to give it a bit of stick - doesn't really have enough slap.
Jake England-John is the purrrrfect Puss; he's obviously spent a lot of time watching cats recently. For most of the first half he chases mice and gets in the way, but after eating some of Mon. Santo's modified flour, he find his voice, with an Italian accent. (I thought Monsanto were an American company?)
I don't want to write a spoiler, save to say there's a rather brilliant Dalek style spaceship, an amazing radio controlled drone (I want one of these for Christmas), a very effective mollusc monster, ducks (I loved the ducks) and plenty of topical jokes, good and very bad.
Gary Bridgens makes his Dame debut and I think may have just found his niche - a brilliant new dame dawns and I predict that he'll develop this character into something very special. Excellent.
Evadne D'el Monte is the rather bonzer, toothy, Semaj Lcmean. See what they did there? James McClean again, but backwards, a word modified character, what next?
I enjoyed Claire-Marie Seddon's performance of Millhouse Grinder and Caroline Hallum gave us a confident, very watchable, Doris D'el Monte.
The music was fab, hats in the air for Musical Director, Daniel Bowater and talented musician, Jack Burton. They produced some very innovative instruments, like the incredible theremin and a stylophone as well as accompaniment for such classics as "Monster Mash", "These Boots are Made for Walking" and "Moondance".
Kelly Jago's set is imaginative and costume designer/maker Naomi Parker has produced some fabulous creations. Choreographer Jane Allinson obviously enjoyed working with the Georgian Youth Theatre, who were all fully engaged in the production making all the routines highly entertaining.
Director Tony Lidington is a brave man daring to modernise a classic. But it works. It's too long of course and Mr. Lidington doesn't seem to know quite where to stop adding things; perhaps he should remember that 'less is more' sometimes. The pace is a bit slow in the first half but it was first night and the production does pick its feet up in the second half with an inventive dash for the finish line.
Reviewer: Helen Brown