Puss in Boots
Marcello Chiarenza
Lyngo Theatre
Polka Theatre
–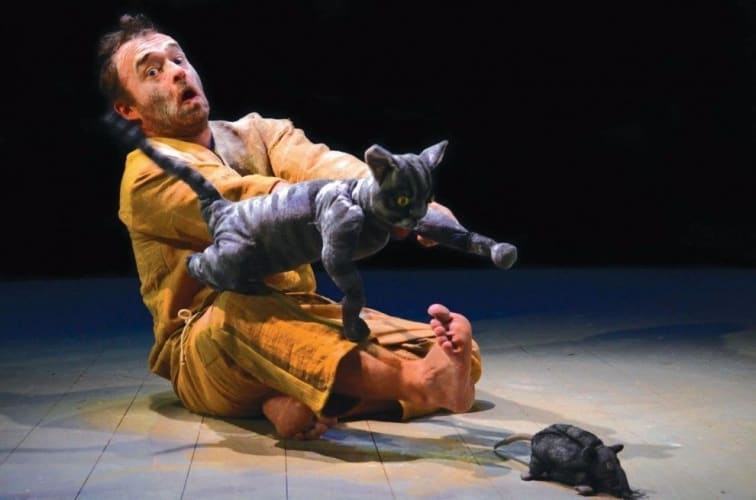 Putting on stage Puss in Boots, with its clever talking cat, king and court in their carriages, beautiful princess and ogre in his castle, is a pretty ambitious undertaking. Don't expect pantomime spectacle from Lyngo Theatre but do expect theatre magic and you won't be disappointed.
Aimed at 4- to 8-year-olds, this is a delightful retelling that seemed to totally captivate the packed school audience with whom I saw it. The theatre was full of excited chatter and there was a great whoop as the lights went down.
I don't know what they were expecting but they loved what they got. That was just one actor (Patrick Lynch) relying on talent, imagination, the clever design by Marcello Chiarenza and Elena Marini, Carlo Cialdo Capelli's music and rich warm lighting to bring the familiar story to life.
The simple setting could fit almost any sized venue. It is a sloped rostrum with a backcloth behind it but it is fitted out with trap doors and drawers that can provide a lake to jump into, an oven to bake bread in and a ramp down which to chase mice or roll the riches of the lands that belong to the ogre—and a hideaway behind which more props can be appear from.
When Lynch appears, coming up from that hideaway preceded by flourish of music and light, he starts telling the tale of the hard-up miller with three sons, fitting in a flour-dusted description of how flour gets milled and is turned into bread complete with grain grinding and a fiery-fuelled oven for baking.
Continuing the story with how the eldest son was left the mill, the next his dad's donkeys and Felix, the youngest, just a cat, Lynch then becomes Felix, with the cat a glove puppet with bright eyes and a lively red tongue. Puss not only understands what Felix says but can communicate back, this soon setting things in motion with a plan to make Felix's fortune, though at first he will have to go hungry unless he is prepared to eat mice.
Lynch creates close rapport with his audience; they are with him every inch of the way. Even when he is absent for several moments doing something out of sight, the atmosphere remains one of concentration, helped by well matched music.
Lynch handles everything except light and sound cues (and a smoke effect that is part of the lighting plot). He is puppeteer, prop man and storyteller as well as playing both Puss and Felix and dealing with lots of other things while still giving a delightful performance. A show that has been very carefully planned is excellently executed.
This Puss in Boots lasts just under an hour, well within the youngsters' attention span, and its performance style made it just as enjoyable for accompanying adults. Lynch and his Lyngo team make shows worth catching if they are all as good as this one.
It was clear from a Q & A at the end that the satisfied audience had also been fascinated by the way effects had been achieved. It had been an excellent introduction to theatre for those who were seeing their first show—and there were quite a number of them for this was one of Polka's Curtain-Up! Performances.
This is a scheme, privately sponsored, that allows schools that could not otherwise afford to do so, to bring parties of pupils entirely for free (and with help for transport costs too when it is needed). Schools have to meet certain criteria but in tough times it is a splendid initiative.
Reviewer: Howard Loxton