Pygmalion
George Bernard Shaw
Headlong, Nuffield Southampton Theatres and West Yorkshire Playhouse
Curve Theatre, Leicester
–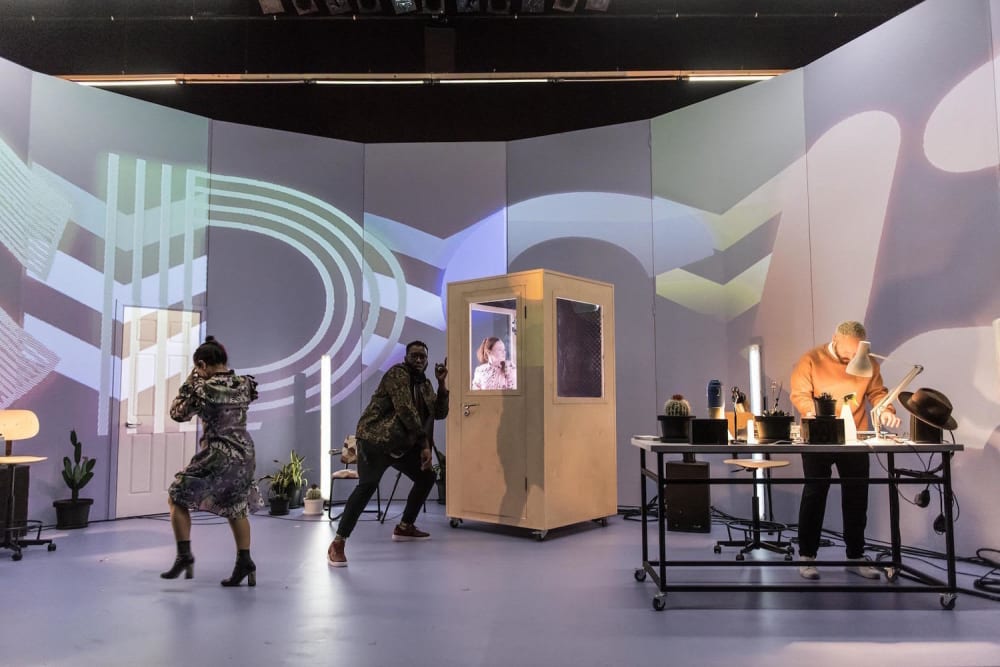 "Finally, and for the encouragement of people troubled with accents that cut them off from all high employment, I may add that the change wrought by Professor Higgins in the flower-girl is neither impossible nor uncommon."
So says George Bernard Shaw in the Preface to his 1913 play Pygmalion.
There is often much discussion in the media as to whether Britain is now a classless society. Another common content piece is a "listicle" detailing the UK's top five favourite call centre accents (Geordie often scores highly, Cockney less so).
Whatever time period under consideration, there's no avoiding the fact that we humans still judge each other on accents, with linguistic studies a-plenty to back this up.
Headlong, in conjunction with West Yorkshire Playhouse and Nuffield Southampton Theatres, has reimagined Bernard Shaw's classic and placed it in present day Pygmalion-land.
A plot refresher: Professor Henry Higgins (Alex Beckett), a hirsute professor of phonetics, places a bet with his colleague Colonel Pickering (Raphael Sowole) that within three months Higgins will have successfully transformed flower-girl Eliza Doolittle (Natalie Gavin) from talking and behaving like a "guttersnipe" to a duchess. He views this merely as an experiment and intends to discard Eliza once she is taken as a "lady" in society and he has won his bet. He hadn't bargained on falling in love with her.
This is certainly a re-imagining of the more common Edwardiana productions; director Sam Pritchard and the creative team present a minimalist Shavian experience. Higgins is a hipster, his workplace a studio complete with sound booth, voice loops and changers. Alex Lowde's design adds many theatrical touches and his placing of Mrs Higgins's (Liza Sadovy) drawing room scene in a large, raised vivarium leaves her and her guests cramped and stilted with their cut-glass accents. She almost blends into her surroundings with her leaf print dress coordinating with the wallpaper.
Action is interspersed with film sequences projected onto a large screen, stage front. The opening sequence immediately challenges our expectations as actors stand front of screen, lip-syncing the words of others in different accents and genders, sometimes slowed down or speeded up, and with script fragments projected as surtitles. Sound designers Ben and Max Ringham, together with Will Duke's projection and Geej Ower's film sequences, add greatly to the sensory experience of this production.
Beckett's Higgins is selfish and egotistical, exposing the arrogance of his experiment. Gavin's transformation from broad Yorkshire to RP is moving, at times funny and empowering but her sense of the loss of her identity is the sad thing here. Sowole cuts a cool figure as the more caring Colonel Pickering, and Ian Burfield as Alfred Doolittle makes a great case for the "undeserving poor".
Whereas act one focuses on the de- and re-construction of Eliza's vowels and consonants, aided by voice loop and some funky phonetics, act two gets down to the heart of the piece. The final scenes, where Beckett and Gavin remove their mics and confront each other and their respective journeys, are raw—the shift in power in their relationship combined with Higgins's reticence to admit his true feelings bring matters to a poignant conclusion.
This is an imaginative revision of a classic, and poses the question, in the past one hundred years, just how far have we come as humans in terms of our response to our cultural differences?
Reviewer: Sally Jack