Pygmalion
George Bernard Shaw
Theatre Royal, York
(2006)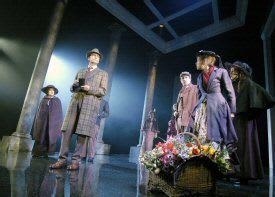 Revivals of Pygmalion seem to be few and far between - I was surprised to find that there isn't a single review of the play in the British Theatre Guide archive. Has My Fair Lady, the hugely popular but sugar-coated musical version, elbowed its source material off the stage? If so, director Damian Cruden is to be congratulated for reminding us what a funny and intelligent play Pygmalion is. There may be no dancing dustmen or Royal Ascot hats, but who needs them when you can enjoy a draught of undiluted Shavian wit?
The story is well known: phonetics expert Professor Henry Higgins takes on the challenge of transforming Cockney flower-seller Eliza Doolittle into a lady. With the help of his friend Colonel Pickering he succeeds in launching Eliza into high society, only to discover that his creation has a mind of her own.
There is no contrived happy ending. Eliza accepts a proposal of marriage from Freddy, a kind-hearted but "weak and poor" young man, and plans to earn a living by teaching Higgins' method of elocution. At the end of the play Higgins is left alone with his pronunciation charts and gramophone recordings, and you don't have to be unduly pessimistic to wonder how long Eliza will be able to put up with the spineless Freddy.
David Leonard, who is best known for the ritual humiliation he undergoes every Christmas at the hands of panto dame Berwick Kaler, plays Professor Higgins with great aplomb. Rude, insensitive and overbearing, Higgins would be a thoroughly obnoxious character were it not for his air of being an overgrown schoolboy still under the thumb of his mother (Christine Cox) and housekeeper (Barbara Kirby). Eliza's virtue was never safer than when she lived under the same roof as this confirmed bachelor.
Sarah Quintrell is a captivating Eliza, equally credible as grubby flower-girl and elegant socialite. Her near-exposure in Mrs Higgins' drawing room, when she regales the company with lurid details of her aunt's gin-related death (and uses a certain word beginning with "b"), is brilliantly done.
The strong supporting cast includes Robert Pickavance as the gentlemanly Colonel Pickering, Mark White as Eliza's cheerfully amoral father Alfred, and Robert Simpson as the hirsute diplomat Nepommuck (who believes Eliza to be a Hungarian princess because only foreigners speak English properly!).
Siobhan Ferrie's set is simple but highly effective. Four marble pillars, an imposing doorway and a glossy floor are all that is needed to suggest the rainswept pavements of London and three different interiors. The use of video is no longer unusual in the theatre, but I have never seen it more imaginatively done than in this production. Boris Cruse's beautiful film sequences include a wonderfully surreal image of rosebuds opening up to reveal a human eye at the centre of each flower, a witty comment on the scene in which Eliza faces the scrutiny of London's social elite
Pygmalion will be a revelation to anyone familiar with My Fair Lady. The issues of class and gender that fascinated Shaw still strike a chord with modern audiences, and this excellent revival is the perfect introduction to his work.
At the Theatre Royal, York, until 17th June
Reviewer: J. D. Atkinson