Pygmalion
George Bernard Shaw
West Yorkshire Playhouse, Headlong and Nuffield Southampton Theatres
West Yorkshire Playhouse, Leeds
–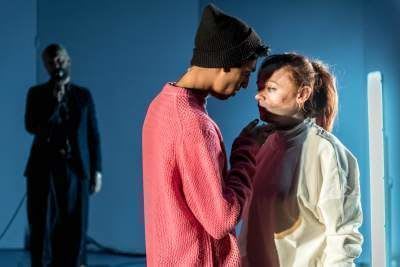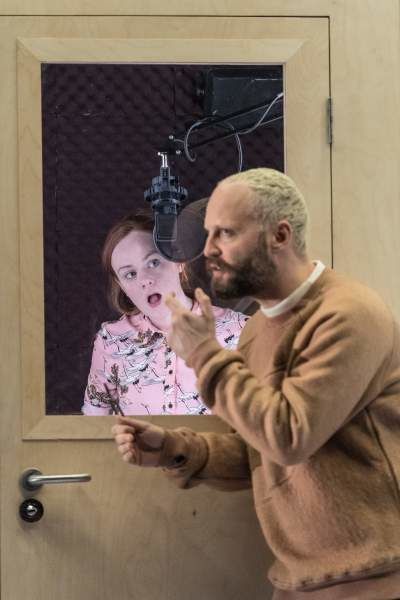 Following hot on the heels of a sci-fi inflected version of Charlotte Brontë's novel Villette (1853), West Yorkshire Playhouse—in collaboration with Headlong and Nuffield Southampton Theatres—offers another unorthodox staging of a classic text: George Bernard Shaw's Pygmalion (1913). In this production, director Sam Pritchard wrenches the play from its Edwardian setting and relocates it to the present day in order to explore how its ideas on class and social hierarchies remain relevant.
Upon entering the theatre, it becomes immediately apparent that this will not be your typical staging of Pygmalion. In the opening scene, the characters line up against a blank wall and lip-synch to recorded dialogue which is also projected as surtitles. While this device might strike some playgoers as alienating, I thought it was an inventive way of introducing the play's preoccupation with the human voice. It also reminded me of Clio Barnard's playful documentary The Arbor (2010) in which Natalie Gavin—the play's leading lady—makes a memorable appearance.
Professor Henry Higgins (Alex Beckett), a brilliant phoneticist (and borderline sociopath), enters into a wager with his friend Colonel Pickering (Raphael Sowole) that he can transform a lowly flower girl into a member of the upper crust by changing the way she speaks. Eliza Doolittle (Natalie Gavin) wants to become 'respectable' so she can become a "lady in a flower shop", but as her working-class identity is gradually erased she is left questioning her place on the social ladder.
Pritchard has questioned the compulsion to repeatedly stage Pygmalion in period dress, suggesting that we do so because "it makes us comfortable to think that the struggles of class remain in [1913]". Overall, I think his staging of Pygmalion proves that Shaw's ideas on class are still pertinent in 21st century Britain. In the words of the sociologist Richard Hoggart, "each decade we shiftily declare we have buried class; each decade the coffin stays empty."
Alex Lowde's sleek and modern set designs are a far remove from the Edwardian trappings of the original play. Instead of a traditional study stuffed with academic papers, Higgins works in a sound lab filled with microphones, megaphones, voice modulators, speakers and a sound booth. It is within this space that Higgins conducts experiments on Eliza, like an unholy mixture of Dr Frankenstein and a Shoreditch hipster.
A series of short films from designer Will Duke and director Geej Owen depict the interludes between scenes. In a cheeky nod to My Fair Lady (1964), the Hollywood musical that Pygmalion inspired, Eliza lip-synchs to a recording of "Wouldn't It Be Loverly" whilst sitting down in her poky bedsit. For the most part, these films prove effective at fleshing out the world of the play.
Crucially, Sam Pritchard's innovations do not distract from the intense pleasures of Shaw's play, which brims with memorable characters and delicious dialogue. Henry Higgins, in particular, is a superb creation, combining monstrous egoism and cruelty with genuine charm. All of these qualities are apparent in Alex Beckett's excellent performance.
Beckett is amply matched by Natalie Gavin, who movingly conveys Eliza's mounting sense of social dislocation. She is also extremely funny, particularly in the afternoon tea scene, where she voices—in a cut-glass accent—her suspicions concerning her aunt's death: "them she lived with would have killed her for a hat-pin, let alone a hat."
Although Pygmalion is dominated by these two performances, each of the other actors is given a chance to shine. Liza Sadovy excels as Mrs Higgins, blithely cutting her son down to size, and Ian Burfield is equally impressive as Eliza's self-serving father, Alfred Doolittle. Flaminia Cinque is refreshingly tart as Mrs Pearce, Higgins's long-suffering housekeeper, and Raphael Sowole makes a warm and chivalrous Pickering. Racheal Ofori and Gavi Singh Chera provide solid support in smaller roles.
Reviewer: James Ballands