Pygmalion
George Bernard Shaw
MJE Productions, Mark Goucher Ltd and Theatre Royal Bath
Yvonne Arnaud Theatre, Guildford
–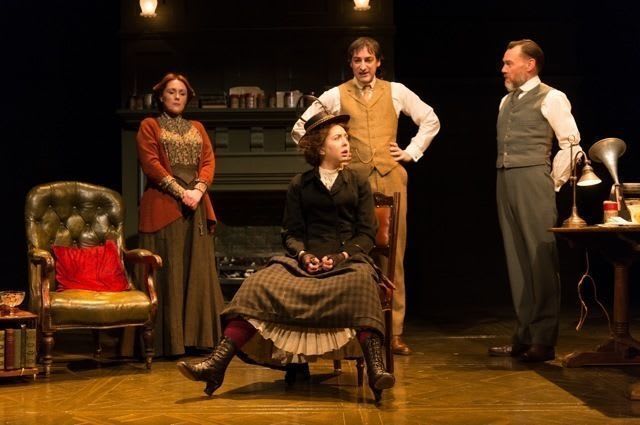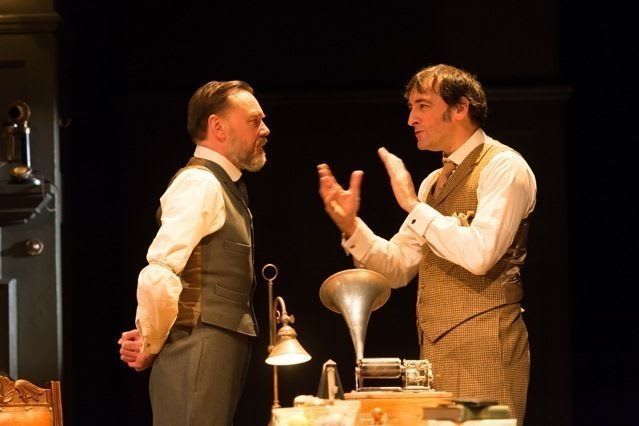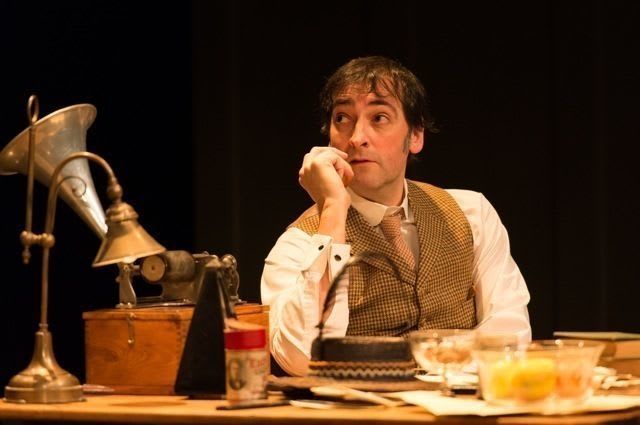 This is the most enjoyable production of Pygmalion that I have ever seen, and I'm sure that Shaw would have been delighted with it too.
It disregards the sentimentality of the musical My Fair Lady, and in fact that of many other stage productions, and concentrates on Shaw's idea of equality, independence and morality, but always seeing the humour in the situation.
Beginning in the street outside the Opera House, the play contrasts the spoilt and indulged Clara Eynsford-Hill and her mother, both waiting impatiently for a drenched Freddie to fetch a cab, with Eliza Doolittle the dirty and bedraggled flower seller desperately trying to make a living.
Professor Henry Higgins (Alistair McGowan) and Colonel Pickering, both experts in the field of phonetics and its place in life, happen to meet. Higgins boasts that he could, with a few months tuition, pass the flower seller off as a duchess, and the Colonel (a more kindly and understanding Paul Brightwell) bets him that it is not possible. Then begins the transformation of Eliza.
Young Rachel Barry is a superb choice as Eliza, with excruciating vowel sounds to begin with (repeated rather too often perhaps), and painstakingly careful enunciation on her first introduction into society, with the content of her 'small talk' causing some surprises, and a lot of laughter from the audience.
The show is extremely funny, but the comedy is in the situations and the witty dialogue. Happily, director David Grindley resists anyone's temptation to play for laughs and keeps strict control, although I sometimes felt that McGowan was longing to break into a comic turn, especially playing the reluctantly obedient son to the elegant Rula Lenska's wise and kind mother.
Shaw, it is said, never used one word when twenty would do and there is extensive dialogue to learn, but not one line or word was fluffed, with a special mention for Jamie Foreman playing Eliza's father, the dustman. His speech with his "willing, waiting, and wanting" to tell his tale is so perfectly executed and so funny, with his pride in being one of the 'undeserving poor" that it was followed by some very appreciative laughter and applause.
Transformation complete and Eliza can move in high society, but what will become of her now? The only option seems to be marriage, which she regards as selling herself and "We were above that in Tottenham". "If only I could go back to my flower basket, my independence".
There are some lovely touches in the production. In an almost heartbreaking scene a distraught Eliza, upset that the men congratulate only themselves at the success of their 'experiment', hands back her jewellery, but waits imperiously for Higgins to cross the room and take it. Flinging the ring he bought her into a corner, she then betrays a certain affection as she searches on her knees to retrieve it, but in the end what she really wants is independence, and HIggins is left wondering quite what happened to his 'creation'.
Scene changes seem to melt into each other, transformations from street scenes to bachelor lodgings, and to Mrs. Higgins' elegant drawing room taking place swiftly and unobtrusively, and the whole is a very satisfying production, perfectly executed and thoroughly enjoyable. I loved it.
Touring to Richmond, Newcastle, Malvern, Oxford, Coventry, Canterbury, Plymouth and Norwich.
Reviewer: Sheila Connor