Quadrophenia
Music, lyrics and concept by Pete Townshend; stage adaptation by Jeff Young, John O'Hara and Tom Critchley
Sunderland Empire and touring
(2009)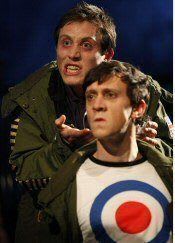 It is sometimes said (not, I hasten to add, that I agree) that a critic should reflect the reaction of the audience to a show. That would be difficult with Quadrophenia. A man behind me at the end enthused "That was excellent!" whilst another, on his mobile at the interval, said, "It's bad. Really, really bad." Quite a few left at the interval but quite a few whistled and howled their approval at the curtain call. Some cheered: others sat stony-faced and fled as soon as decently possible.
So let's - as usual - get personal.
My first reaction was that if a musical show puts great importance on the words - and this one certainly does - then the diction must be spot-on and the singers must be heard, not drowned out by the band. Unfortunately all too often neither happened: I doubt if I picked up more than 20% of what was being sung. And it is a sung-through piece: there is no dialogue. If you went in not knowing what Quadrophenia is about, you'd come out very little wiser.
Musically, the bad sound balance apart, there is nothing to complain about: the band is excellent (unusual orchestration for rock, with strings and brass as well as the usual keyboards, guitars and drums) and the performers can certainly sing. The costumes are good and the set interesting, although mainly non-representational, seeming to be there to provide opportunities for the cast to get up high and, on the central revolve, walk whilst remaining in one place. The choreography is eclectic, ranging from dance styles of the period to some dance/physical theatre-inspired moves.
The central character Jimmy is split into four - the romantic, the tough guy, the lunatic and the hypocrite - and is searching for his place in the world and a girl to love. There's teenage angst and a longing for love, style-consciousness and mods and rockers warfare. There's a dysfunctional family and a bullying father. And all is intended to be conveyed by a driving rock score with little light and shade.
And therein lies another problem: the small amount of light and shade in the music reflects the lack of dramatic incident and incresing dramatic tension in the plot. Yes, we have a fight between mods and rocker (and that "rocker" is intended - there's only one of him) and father lashes out occasionally in the family flashback scenes. The girl Jimmy fancies goes off with someone else but, as in the scenes with father, our inability to hear the words makes the events seem almost random.
The Who were part of my youth and early manhood. I was a fan but I'm afraid Quadrophenia the stage show isn't Tommy. I have to rank myself with those who - as was clear as we left the theatre - were disappointed.
"Quadrophenia" tours to Cardiff, Blackpool, Cheltenham, Leeds, Nottingham, Aberdeen, Liverpool, Brighton, Norwich, Wolverhampton and Coventry
Reviewer: Peter Lathan