Quaint Honour
Roger Gellert
Giles Chiplin Productions in association with Neil McPherson for the Finborough Theatre, by special arrangement with Tony Scotland
Finborough Theatre
–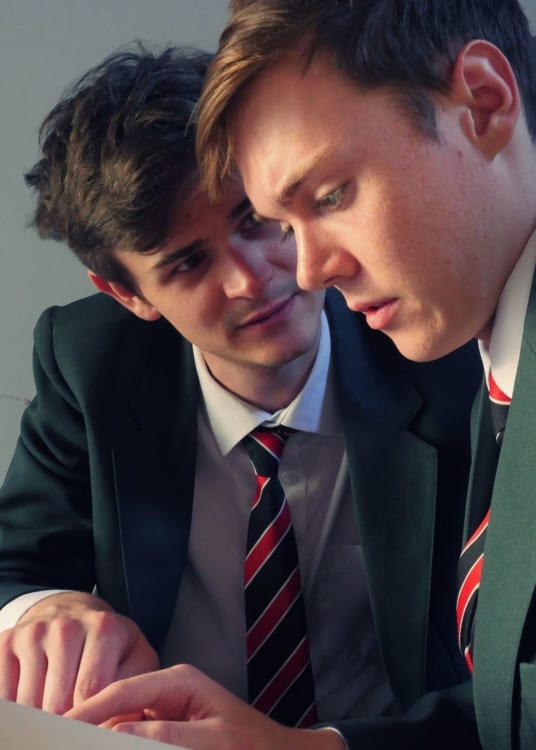 This is the first production of this remarkable play since its première staging at the Arts Theatre nearly 60 years ago. It was only seen then because the Arts was a club theatre able to put on plays that had not had the Lord Chamberlain's stamp of approval, which its taboo subject would never have been given.
"Quaint honour" is a quote from a poem by Andrew Marvel: "To His Coy Mistress", the one that begins "Had we but world enough and time". If you haven't already guessed, it means virginity: in the play's case, male virginity and more specifically male-on-male. That was not a subject for the stage in 1958, especially when its protagonist is an atheist who sees nothing sinful or improper in male love.
The play is of its time (a decade before the partial decriminalisation of homosexual practice). It is more wordy than is fashionable today and takes its time to explore issues but it is a powerful piece that, in the context of today's news headlines, is still daring.
Set in a British public school (all male and boarding), it opens with a Housemaster and House Head Boy discussing a cricket team selection, moves on to a gentle caricature of a master's talk on sex and then begins to explore what really goes on between the boys.
Head Boy Park (Oliver Gully) is rigidly puritanical, quite oblivious of what his friend and deputy Tully gets up to. Seventeen-year-old Tully (Harley Viveash) has an active and guilt-free sex life, not least with his demandingly enthusiastic fag (no pun intended) fifteen-year-old Turner (Jacques Miche). When Park suspects Turner of sexual activity, he delegates Tully to give him a talking to which sees Turner proposing a Liaisons Dangereuses-like set-up challenging Tully to seduce his dull and innocent young classmate Hamilton (Jack Archer).
Tully is putting on Richard III as the House play and when Hamilton turns up asking to audition he uses the wooing Lady Anne scene as his method of seduction.
What begins as a game becomes deeply serious, the real thing for both of them, with perhaps inevitable consequences despite the romantic plans Tully proposes.
Christian Durham's production of this honest and outspoken play handles it carefully, free of any sentimentality or over dramatisation, and is well served by his cast. Though young Hamilton seems almost unbelievably naïve for a boy at such a school, Archer manages to make him seem plausible and the relationship with Tully is beautifully balanced. The extrovert enthusiasm of Viveash's Tully contrasting with Gully's uptight Park while Miche bubbles as irrepressible hedonist Turner.
One cannot help wondering how long gentle Hallowes would survive as a twenty-first century schoolmaster, but Simon Butteriss even manages to deliver his euphemistic sex-talk in a way that is amusing without drawing laughter that would unbalance the rest of the playing.
Why has this play been forgotten for so long? There may be a wider acceptance of homosexuality today and a more free discussion of sexual behaviour but we are still caught up in concepts of guilt and sexual roles that this play sought to challenge. Quaint Honour still has something to teach us.
Quaint Honour plays on Sundays, Mondays and Tuesday matinées only.
Reviewer: Howard Loxton