Quality Street
J M Barrie
Northern Broadsides
The Lowry, Salford
–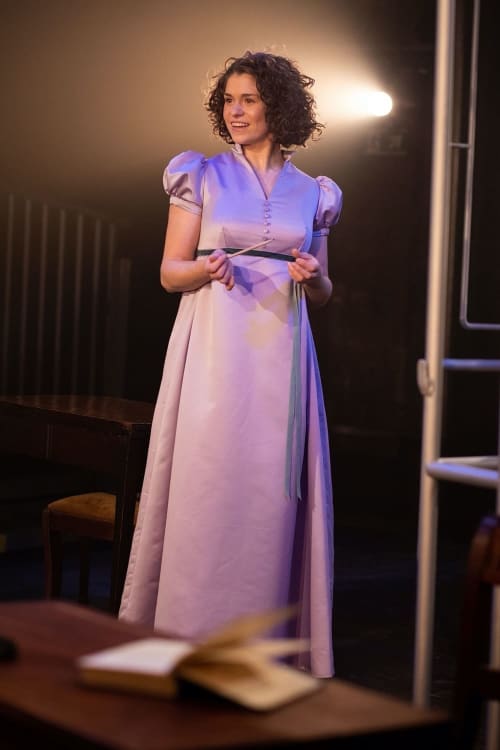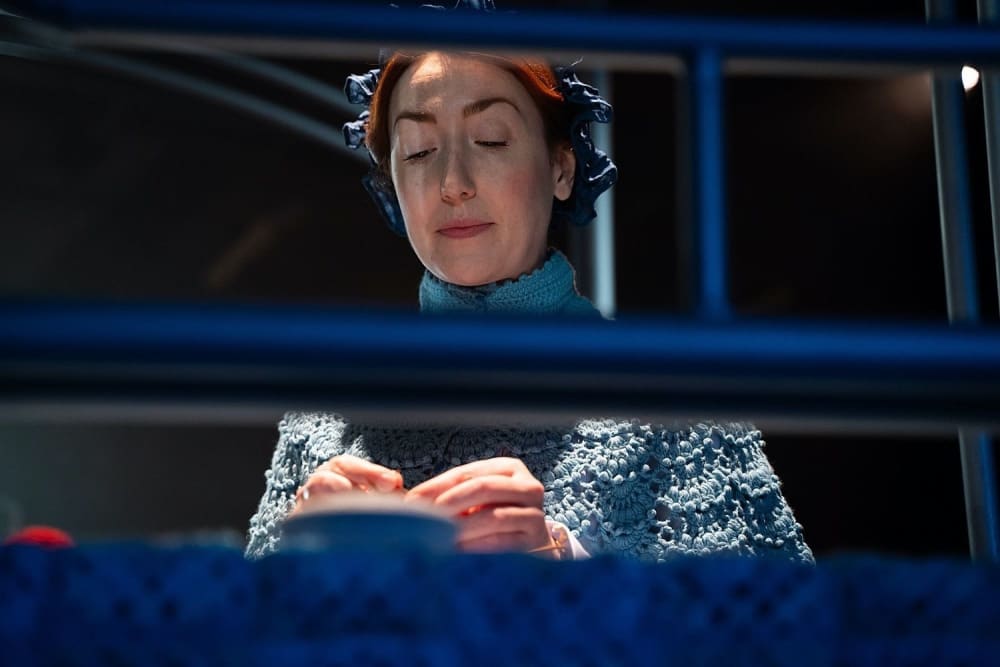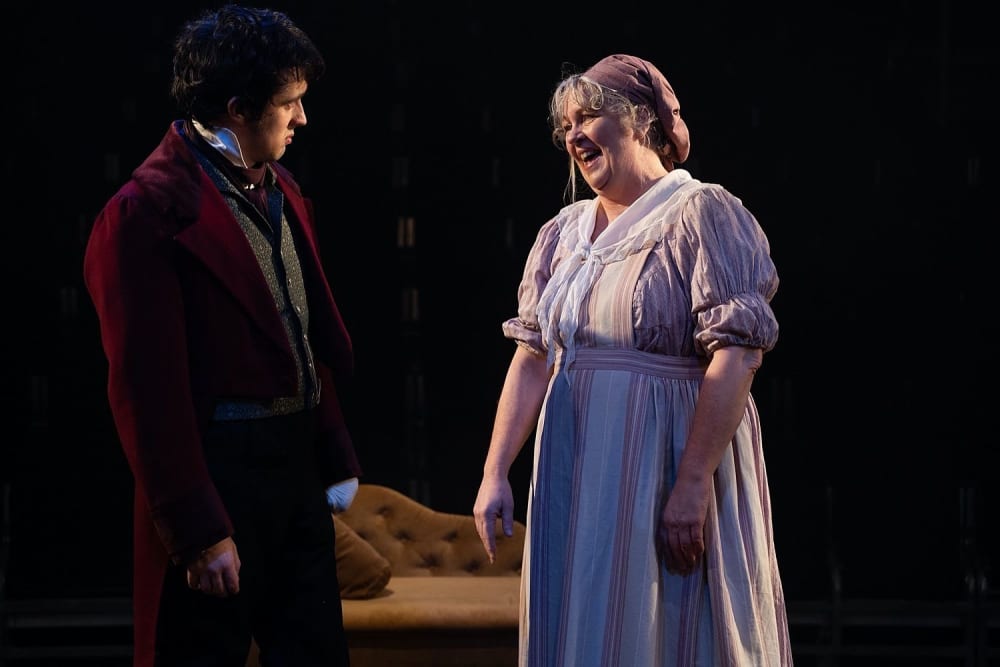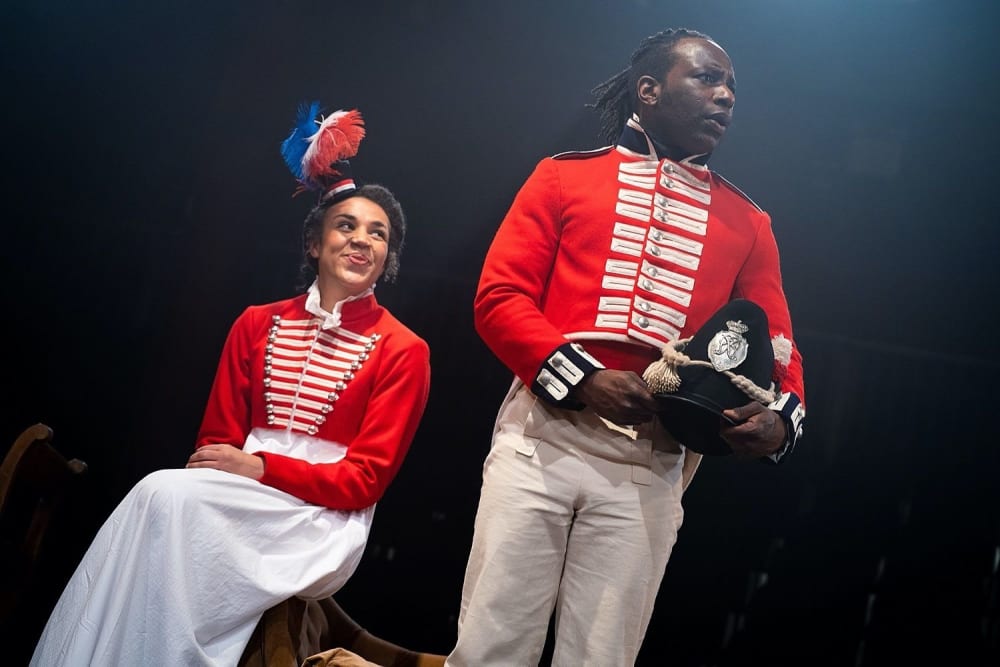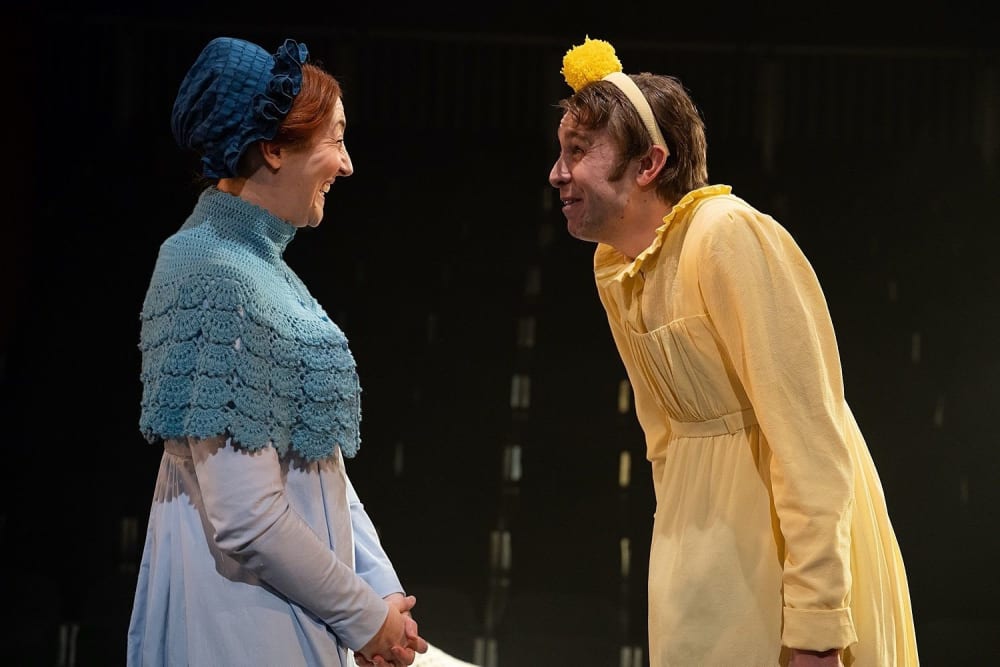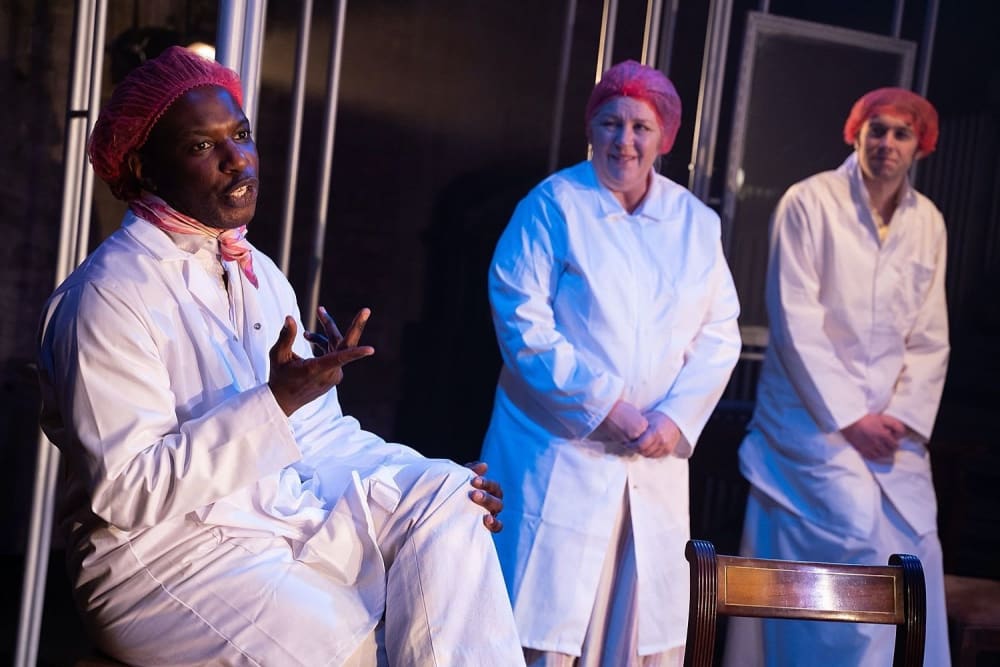 Although now only known by most people for a world-famous play for children, J M Barrie was a successful writer in his day of quite a number of plays for adults; the one that Laurie Sansom has chosen to revive as his debut production for Northern Broadsides was so famous that the chocolate selection that we still eat, manufactured in the company's home town of Halifax, was named after the play (as he explained for the BTG podcast).
Sansom has chosen to exploit the local link with some additions to the play, while designer Jessica Worrall has created ballgowns based on the colourful wrappers of the chocolates. The play opens with workers from the Mackintosh works in their white coats and orange hats discussing the play and reminiscing about their time in the factory. It's a funny and lively opening that then switches to Georgian England in 1805, during the Napoleonic Wars.
Miss Phoebe Throssel tells her sister Susan that the dashing gentleman Valentine Brown, with whom she has been out a few times on picnics and such like and has even allowed to kiss her, has told her he will call around later with some news he must tell her. Naturally, they both assume he is to propose and make plans for Susan to live with them after their marriage due to their current financial difficulties—for which VB is unknowingly responsible. When he arrives, Brown speaks affectionately if a little patronisingly of this room with its blue and white knitted covers made by Susan before making the announcement that he has joined up to fight in the war.
With VB gone, the sisters set up a school to bolster their finances. Ten years later, VB returns from the war to find his "Phoebe of the ringlets" is now a dowdy schoolmarm and has second thoughts about inviting her to the ball. However the old Phoebe is still in there somewhere, and she reinvents herself as her own niece, Livvy, an outspoken and flirty young woman who has all the men chasing her and says things that Phoebe wouldn't dare to. This gives some great farcical opportunities—especially later when she is trying to play both women to the same group of people—but it never really builds up to the pace of a farce; I don't know whether this is in the writing or the production.
It also enables Phoebe to tell Brown exactly what she thinks of what he has done to her in the guise of Livvy, which produces some of the nicest written scenes in which she is confident and eloquent and he oscillates between shallow and genuinely affectionate. Of course it all ends happily eventually.
Jessica Baglow is wonderful as Phoebe: perfect for the role in every way. Dario Coates's Valentine Brown is every bit the self-assured, patronising gentleman but with a vulnerability at times that makes him believable. Louisa-May Parker is delicate sister Susan whose shocked reactions to each turn of events provide quite a bit of the comedy. There is also a notable comic performance from Claire Hackett as intimidating servant Patty. Other parts are played by Jim English, John Gully, Alicia McKenzie, Sophie Mercell and Gabriel Paul.
While the main characters work very well, some of the smaller roles come across more as pantomime characters, including men dressed as women and puppets as children, which can work well in the right circumstances but here feels like it clashes with the more realistic style of the majority of the play. Also, some of the comic elements didn't feel, at the matinée performance I saw, like they were quite running in top gear.
I'm also not sure that the interruptions from the Mackintosh workers really added anything. The introduction is amusing, but having them chat about the play as they change the set between acts feels a little contrived and distracts us from our own contemplation of what we have just seen.
However, it's an entertaining comedy, well worth a revival, in a production that is uneven but at its best highlights some very good writing from someone who these days is known, unjustly it turns out, as a one-hit wonder.
Reviewer: David Chadderton