Quartet
Ronald Harwood
An Ian Fricker and Richard Temple production
Yvonne Arnaud Theatre, Guildford, and touring
(2010)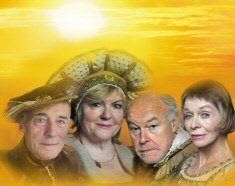 It may have been the eminent writer, or perhaps the starry cast - maybe their appreciation of the Quartet from Verdi's Rigoletto - but this play certainly struck a chord with the Guildford audience and they packed the theatre expectantly. Many were relying heavily on walking sticks, so the subject matter of the retirement home could have been the attraction, but whatever the reason they were not disappointed, applauding vigourously and cheering even before the last notes of the aria had faded away.
In this home for retired opera singers Simon Scullion has created a splendid set of a music room where the three who consider themselves 'the élite' gather to pass the time. It is a pity that, towards the end, that set requires a whole army of white-coated stage hands to scurry about moving the furnishings, but to begin with all is calm and we are introduced to the expertly drawn characters.
Cecily (Gwen Taylor) sits happily listening to music on her headphones. She is bubbly, jolly, excitable - everything is fun to her. Only her habit of welcoming everyone back from Karachi suggests that all is not well. No one has been there!
Michael Jayston's Reginald sits huddled in a chair, withdrawn and concentrating on his study of the meaning of art. "Reggie likes things to be structured." His sudden eruption, hurling abuse at the distant matron, comes as shock - out of character - but she had committed the cardinal sin of giving him apricot jam instead of marmalade at breakfast.
The best lines go to Timothy West's Wilfred - a randy old man who delights in talking dirty to the innocent Cecily - especially when she can't hear him. His extensive list of all things bad about ageing hit several nerves with the audience and they laughed ruefully and knowingly at every one - young and old alike. The relentlessly ticking clock reminds that here "Time does not so much pass slowly as hobble by on its own Zimmer frame."
Consternation ensues when they hear that the latest arrival is to be Jean (Susannah York) and when she enters we see why. Tactless, overbearing, constantly reminding everyone of her Diva status, miserable and resentful to find herself reduced to joining the 'inmates' - . "Me - Me - On Charity!" - but her presence brings out revelations and secrets from all. The biggest secret (to me at least unless I missed something) is how she discovered a cheerful disposition and regained her voice during the interval.
I hardly need mention that all performances by these experienced actors were superb, with only a couple of slight stumbles in the text, swiftly recovered. Well, it is a retirement home!
Originally inspired by a TV documentary, Tosca's Kiss, Harwood also has his creations celebrate Verdi's birthday each year on 10th October by giving a concert where, in their minds, they sing as exquisitely as in years gone by. With the benefit of a little modern technology our Quartet do the same.
After some deliberation on the part of Reginald, it is decided that "Art is meaningless if it doesn't make you feel." This play will make you feel - happy, sad, compassionate, thoughtful - but ends with the uplifting realisation that the body might be fading, but the spirit never dies.
Until 26th June then touring to Richmond and Milton Keynes
Reviewer: Sheila Connor