Quasimodo
Lionel Bart with additional book material by Chris Bond and Robert Chevara
TheatreUpClose
King's Head Theatre
–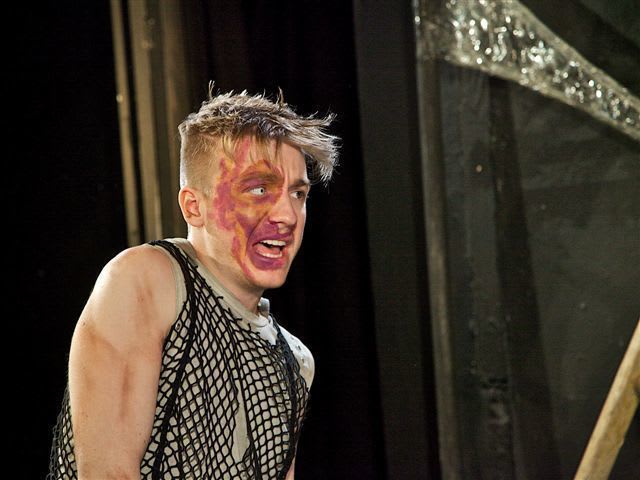 This world première of an unperformed work by the late Lionel Bart is, of course, based on Victor Hugo's novel Notre Dame de Paris, more usually known in English as The Hunchback of Notre Dame. It follows the original story much more closely than William Dieterle's 1939 film version with Charles Laughton which still provides most people's idea of Quasimodo.
Originally written in the 1960s and given a showcase presentation in 1995, Lionel Bart's version was never entirely completed so director Robert Chevara has done some editing and rearrangement. The basic plot is there but there is little chance for any of its individual strands to develop so it never really explores its characters.
"I am not a man and I am not an animal. What am I?" asks Quasimodo of Esmeralda, whom he has saved from the gallows, but that is about as far as it goes. Archdeacon Frollo (James Wolstenholme) starts off the goodie, saving a deformed baby's life and naming him Quasimodo—he rescues the grown lad after he has been flogged for a crime he never committed—then suddenly lusting after Esmeralda he becomes a villain.
"I love sex and fights!" cries Clopin (Sean Paul Jenkinson), king of the Paris underworld, and in this tough fifteenth century world sex and violence seem commonplace. Zoë George's feisty Esmeralda is no pure young girl; she offers to become the wife of poet Gringoire (James Hume) to save his life but spurns his bed and instead is making a purely sexual assignation with soldier Phoebus (Iestyn Arwel). There is no one for the audience to easily identify with—love duets mark duplicity and lust not romance—and it is not until Quasimodo and Esmeralda have become obvious victims of injustice that one becomes entirely on their side.
It is full of energetic music with some aria-like moments. Of more than twenty numbers, many have the music hall vitality that marks a lot of Bart's work. There are appropriately chiming numbers that echo the cathedral's bells but much of the production emphasizes its darker elements. This is not a "go home happy" show.
As Quasimodo, Stephen Webb does not wear a padding hump; there is the occasional body distortion and his movements can be awkward, but a little make-up to disfigure the face is the main reminder of the ugliness he describes himself as having. In public he stumbles and stutters but in private he can sing with a clear voice.
Bart overdoes the plaintive a little with "She Gave Me Water" after his flogging for trying to carry her off (actually trying to protect her), and in a despairing number when he muses on "She Loves Me, She Loves Me Not" but can be wonderfully positive in "Introducing You", a joyful number when he introduces Esmeralda to his bells. This is soon followed by Esmeralda's anthemic "Live and Let Live" (and love will find you) which is perhaps the most easily memorable.
A rather awkward opening scene gives way to riotous carnival, not easy to cram into a small venue, although Lee Proud manages to fit some energetic choreography in tight spaces. Christopher Hone's set is made up of belfry ladders and platforms which create off-ground space and stretches of silver foil reflect coloured light to suggest stained windows. Director Chevara also sometimes enlarges the space by taking his cast out into the auditorium.
It may be the fifteenth century, but Jonathan Lipman's often colourful costumes are an eclectic mix of medieval mystery play and lap dance leotards. Several characters wear carnival masks behind their heads but these never seem put to any real use, or if they were I missed its subtlety.
Despite an accordion, along with the clarinet and piano that make up an excellent three-piece band under musical director Peter Mitchell, Bart's period Paris has a very Cockney feel, and his music has the directness one might expect. That's not enough to overcome the drawback of a thin book that packs in incident but doesn't make the spectator feel sufficiently involved until far too late in the proceedings.
Reviewer: Howard Loxton