Queen of Spades
Pyotr Ilyich Tchaikovsky
English National Opera
The Coliseum
–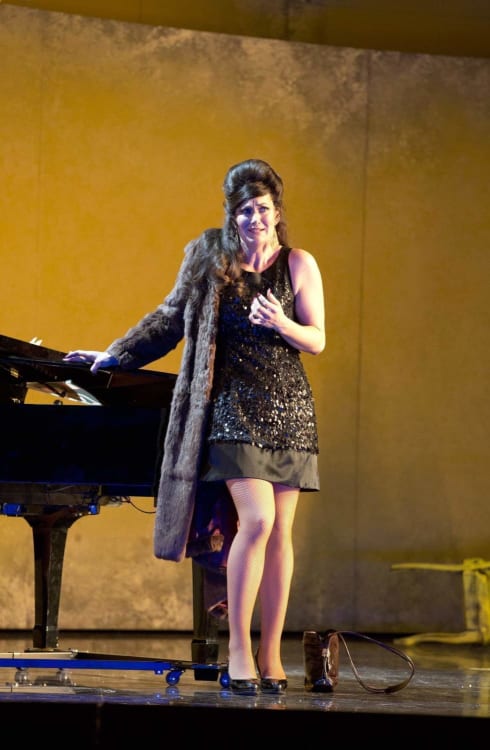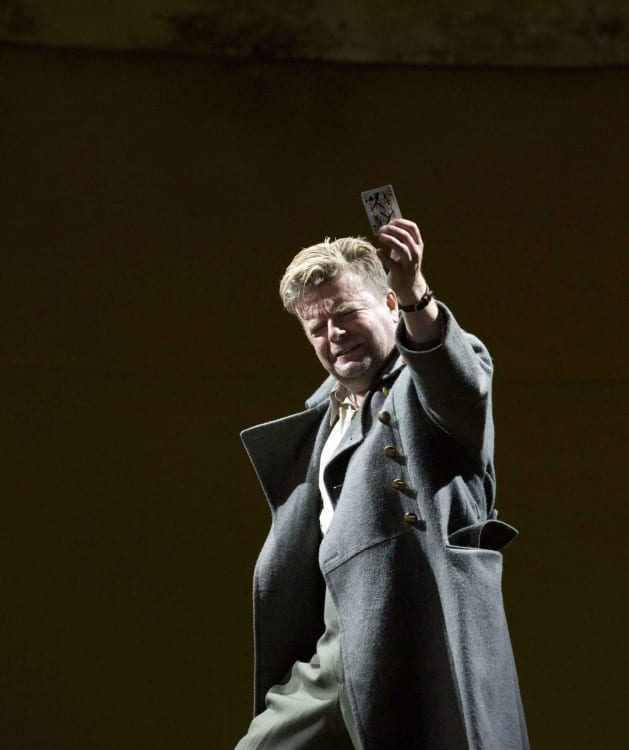 Tchaikovsky's dark masterpiece Queen of Spades is heard less frequently than his other Pushkin opera Eugene Onegin, perhaps attributable to the difficulties in staging this supernatural filled piece.
ENO's orchestra under the baton of Edward Gardner certainly proves that it's a musical masterpiece with just as much to offer as any of Tchaikovsky's more popular fare. The orchestra fills the music with great feeling, and this is teamed with a chorus which I have never heard sounding better. A great legacy for Edward Gardner, this Queen of Spades is his last new production as musical director.
David Alden opens the show in a hospital institution, a good vehicle to allow Pushkin's more fantastical imagery that follows. As well as the never-ending flinging cards filling Hermann's dreams, an array of wonderfully clad figures fills the stage. Into Hermann's troubled mind step '60s inspired ladies, a bewigged, purple-clad footmen and figures stuffed into animal fancy dress against the backdrop of dilapidated architectural grandeur.
The first half of the opera lacks emotion—partly due to some of the cast feeling their way a little too gingerly through the action, not commiting to the direction. This results in a limp rendition of some of the more stylised choreography. Nicholas Pallesen is the exception, doing great justice to Tchaikovsky's beautiful music with his impassioned plea to Lisa to share her troubles.
"No-one can sing and no-one can dance anymore," sings Felicity Palmer as the heart-breakingly frail countess, reminiscing. As if her words were a chastisement, the production steps up a gear; the other artists deliver far more impassioned performances following the interval.
Palmer is the lynchpin of this production. A tight-lipped countess throughout the frenetic madness of the first half, her aria at the start of part two provides a moment of stillness and great sincerity as she recollects her younger days in Paris.
The second half picks up energy, and an invigorated cast matches the exceptional playing of the orchestra. Peter Hoare who struggled through the first half came back rejuvenated post-interval and proved he had the lyric warmth to sing as a Tchaikovsky tenor. Catherine Young (Pauline) is convincing as a helpless rag-doll figure, tarted up in a short sequinned dress and used by all of the officers.
In a brilliant translation by Neil Bartlett and Martin Pickard, this Queen of Spades deserves revivals at the ENO. Alden's production is packed with detail and thought provoking imagery—particularly affecting is the ghost of the Countess haunting Hermann.
It was worth waiting more than twenty years for another Queen of Spades at the ENO and as the cast will surely settle into their roles this is a production not to be missed.
Reviewer: Louise Lewis