Queens of Syria
Adapted from Euripides' The Trojan Women
Developing Artists and Refuge Productions
Young Vic (The Maria)
–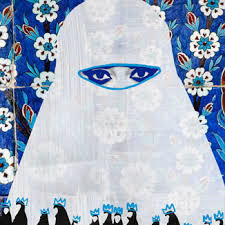 During the long war between Athens and Sparta, the island of Melos tried to stay neutral.
In 416 BC (when the two cities had actually signed a peace treaty), Athens invaded Melos demanding tribute and that it join the Athens dominated Delian League. Their refusal led to a months-long siege. When the city fell, the Athenians executed all adult men and sold the women and children as slaves.
A year later, Euripides wrote The Trojan Women which, though set in the mythical past, seems to be his reaction to his city's brutality. Twenty centuries later, it still stands as an indictment of war and its aftermath.
Queens of Syria, first performed in Amman in 2013, was developed in what began as drama therapy workshops in Jordan in which 60 Syrian women refugees from all walks of life worked on the play with Syrian director Omar Abusaada, reinterpreting it in the light of their own experiences. After performances at Jordan's National Theatre, the play went to CERN in Switzerland and has also been seen by live link in the US, where the cast's travel visas had been rejected. Even the cast coming to the UK was reduced to 13 because two did not have visas.
Though described as adapted from The Trojan Women, the performance they present here, directed by Zoe Lafferty, contains only some choruses and the rites over the body of Hecuba's grandson Astyanax, from Euripides, elements that have direct parallels in their own experiences. "We are not acting Troy; Troy is acting us," one of these women declares. It is their own stories they are telling, not those of the family of Priam, and they tell them directly and very simply.
Thirteen women in traditional costume and hijabs, some wearing a nijab, appear out of the darkness, a whisper grows to a murmur as the light gradually reveals them. A white screen behind them is patterned with reflections from the shiny black floor. There are simple benches to sit on with microphones sometimes brought forward for individual testimonies. Most speak in Arabic, with surtitle translations, a few making contributions in English; sometimes there's a song and almost always an underlying sound score.
The presentation is restrained and dignified; the occasional hesitation or breakthrough of lip-trembling emotion isn't performance. These aren't actors. They don't have to create in their imagination; they tell us what is there in their memory, they lived it.
There is the woman going into labour rushing to hospital, held up by roadblocks, who when she gets there finds it deserted, then forced to take flight with her other children to avoid bombs and bombardment. There is the woman whose family members are kidnapped: a ransomed aunt, freed after payment, not yet knowing her son has already been killed by their captors.
There are letters they have written to loved ones from whom they have been parted—those left behind and those who have braved what they call the "death ships"—and made it to new lives in Europe.
These are women who carry their memories with them, not just of the horrors and terror they have been through but of the happiness they had: the sun through the window in the morning, the smell of the jasmine and roses, the basil. The ordinary things of their lives they have lost. They don't want to be migrants. They want to go back to the homeland they love. "My country, I will write your name on the sun that does not set," is a cry that they share.
The Trojan women face a life without hope, a life of slavery, but these women still look to the future. They may be angry but they are positive. They are asking for understanding and action.
Zoe Lafferty's production doesn't dramatise but it is very carefully constructed using the devices of theatre to concentrate attention and feeling, the emphasis always on the communication between these women and the audience, making sure their voice is heard. They are only 13 but they speak for more than four million Syrians who have fled their homes and countless more refugees round the world.
These Young Vic performances are followed by a brief tour with a final London performance on 24 July at the New London Theatre; 1 to 12 July The North Wall Arts Centre, Oxford; 13 to 14 July Attenborough Centre, Brighton; 15 to 16 July Everyman Playhouse, Liverpool; 18 July West Yorkshire Playhouse, Leeds.
Reviewer: Howard Loxton