The Queen of Spades
Raymond Blankenhorn, adapted from the short story by Alexander Pushkin
Fusebox Productions
Arcola Theatre
(2011)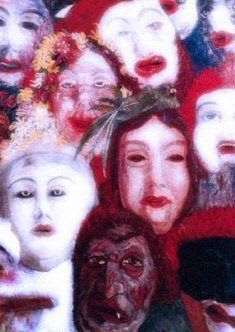 A visceral new adaptation of Alexandra Pushkin's The Queen of Spades delivers moments of beautiful visual imagery as well as an emotive and brilliantly sculpted new text, written in playful verse. However, the two elements fail to co-exist in a way that does full justice to either.
The Queen of Spades, written by Pushkin in 1833, tells the story of a young officer in the Russian army named Hermann (Benjamin Way). Herman becomes obsessed with learning a mystical card trick that once lead a poor old woman (Norma Cohen) to become a wealthy Countess, and along the way he falls in love with the Countess' young ward Liza (Jen Holt).
Blankenhorn's new adaptation of the story is remarkable; the text is made up of brilliant rhymes and half rhymes, lively puns and moments of tragedy, which makes it all the more disheartening when its words are not given the care and attention they merit. The performances form the three actors are not unengaging whilst speaking the lines but all have a tendency occasionally to rely too heavily on the rhymes within the verse, falling into the trap of some sections of text sounding in rhythm very similar to a child reciting a nursery rhyme.
The weaknesses of the text-based elements of the performance are made all the more apparent by the skill with which the three performers deliver the long sections of physical story telling and mime. One scene exploring the beginning of the relationship between Herman and Liza sees Liza looking out of the window of her bedroom, depicted here by a simple suspended wooden frame, and accidentally dropping an imaginary grape onto Hermann in the street below. What follows is as captivating a moment of non-verbal performance as can be imagined; the only problem is that these moments only go to highlight the weakness of the text-based performances.
The Queen of Spades' simple design (Valentina Ricci) and unfussy direction courtesy of Max Hoehn are both strong. The eighty-minute one act structure does well to convey in such strong terms the warnings contained within the story on the dangers of greed and obsession, but at the same time the show is not a complete success.
It would seem, given the relative strengths within the piece, that the whole thing might work better as a piece of physical, nonverbal performance, were it not for the fact that the text has such obvious depth and strength within it that is yet to be explored.
Fusebox are a new company engaging in interesting and challenging work. The Queen of Spades might not be perfect, but it certainly suggests the best is yet to come.
"The Queen of Spades" plays at the Arcola Theatre until 12th November.
Reviewer: Alisdair Hinton