Queereteria TV
Barney Ashton-Bullock, music by Christopher Frost
Above the Stag Theatre (Main House)
–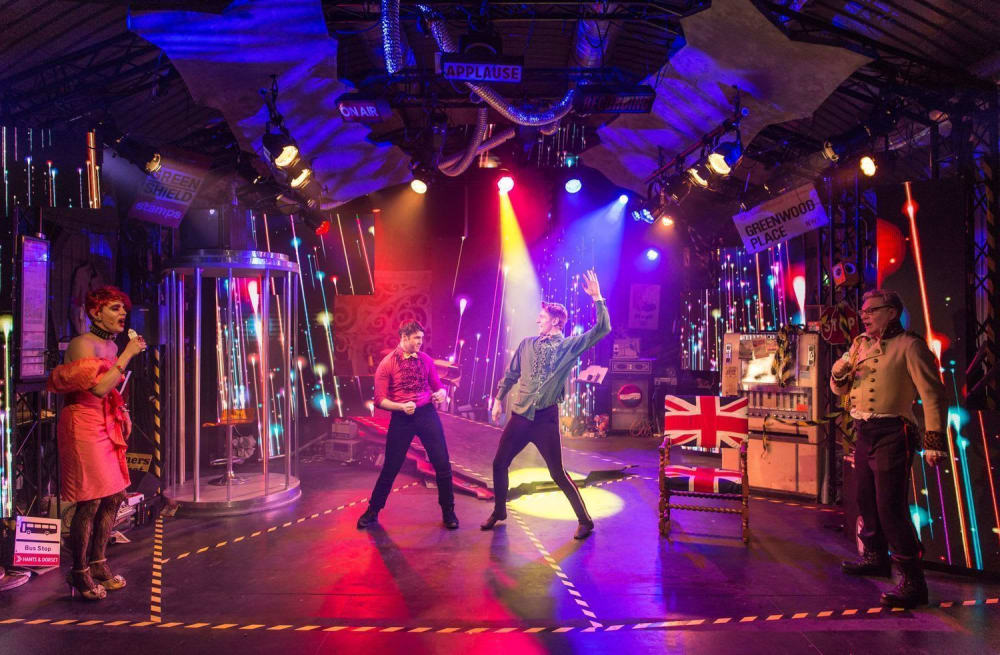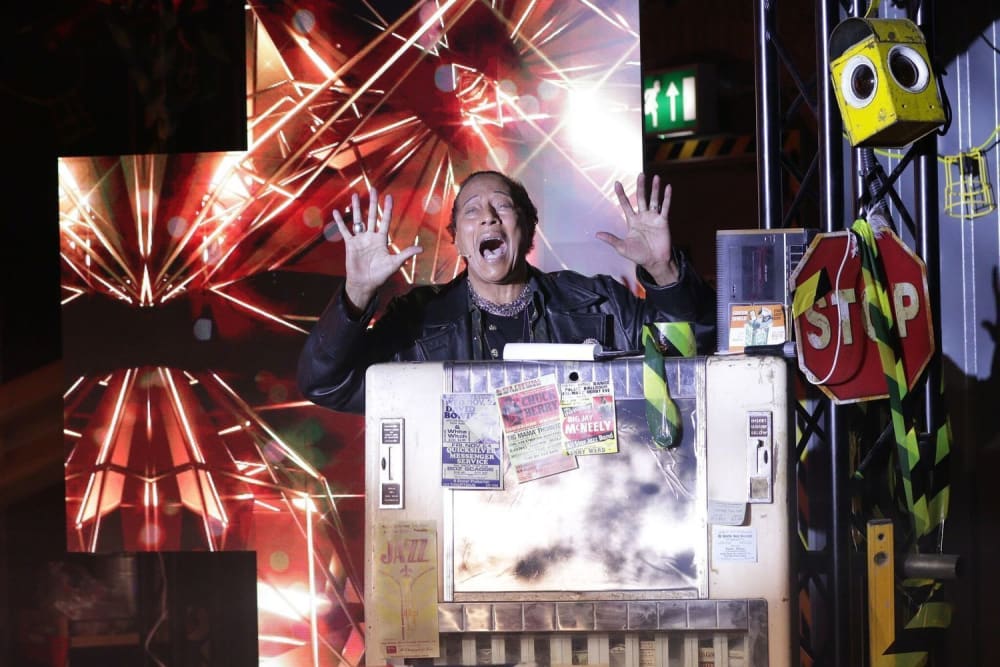 This isn't so much a review as a confession. I'm not sure what Queereteria TV is about. Now, that may not be the show's fault but due to the strength of the cocktail which welcomed the first night audience (what did they put in it?). For the first couple of numbers I seemed to see double.
Fortunately I was already primed by the show's promotional material which sets it all in a future post-Armageddon England when "a merry if dysfunctional band of surviving queers take over the TV station and recreate their all time favourite programme, broadcast live from the ruins of an infamous cruising club."
We become the studio audience at the transmission of a show called Club Bizarre (or more likely its recording for there is a lot that is clearly off-air) presided over by the formidable Lady Domina Bizarre (Matthew Baldwin, commanding obedience in a red dress).
She has former celebrity singer Torsten (Andy Bell) in her power; now over 100 he is shut up in a cryogenic chamber as the show's resident feature, pathetically reacting to the shouts of "Twitch you bitch!" she solicits from the audience. (ATS regulars and Erasure fans will have met Torsten before, this is his third appearance on stage and in a linked album, but you don't need to know his past story to catch up with this one.)
All is not over for Torsten, however. His lover Daniel (Barney Ashton-Bullock) is determined to free him and we witness the struggle against Bizarre's domination interspersed with romantic with flashbacks to the lovers in their lyrical youth romantically choreographed by William Spencer.
I didn't work out who a character called Rupert is but he seems to be on the side of the goodies and since Peter Straker plays him there is a positive impact even when part book-in-hand. (Was that part of the plot? If so I missed it.)
I guess this mayhem sets out to satirise trash television, talentless self-styled celebrities and the pap that gets fed out to the public to keep them pacified but it is too busy having fun to punch home any political agenda, apart from one flashback to Margaret Thatcher.
Forgive me if I don't take it too seriously but, with lively songs, the voices of Bell and Straker, lithe young dancers and Baldwin's bitch diva surrounded by the flashing lights and video images of David Shield's setting and Robert McWhir's staging Queereteria TV is—well, great fun.
Reviewer: Howard Loxton