Quests
Tara D'Arquian
Tara D'Arquian
The Borough Hall, Greenwich Dance
–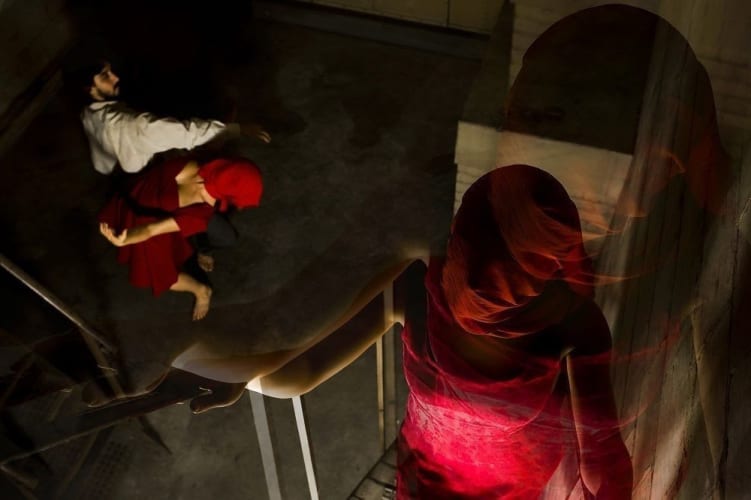 Quests is the second work in Tara D'Arquian's trilogy In Situ, a series of site sensitive works which cross dance and immersive theatre.
The vague plotline of Quests follows the story of a stage director struggling with the creation of his latest work. Haunted by the loss of his wife, a glamorous actress, the performance that unravels becomes both an exploration of his emotional turmoil and the live creation of his new work.
Set in the extensive space of Greenwich Dance's Borough Hall, the audience is led on a trail that winds through a number of rooms, each transformed to reflect a new scene in D'Arquian's story, a step-by-step clue to the progressing plotline.
We begin in The Borough Hall's Supper Room, now an art deco style cabaret bar. The attention to detail, in both narrative progression and set design, is meticulous. Photographs, newspaper cuttings and letters set the scene for a missing person's case, the foyer becomes the luxurious Eden Hotel, letters and blank envelopes mark a pathway between rooms while music drifts down stairwells.
Small details from each set we pass through return as the story progresses and in each room the performers become a part of that set, creating a live scene that develops before us.
It's mysterious and odd, with a tendency to madness—from the doctor who invites the audience, his "patients", to begin their journey, to the red sunflower-headed figures that appear sporadically, a visual guide on our journey through the space and an embodiment, perhaps, of our protagonist's creative and emotional madness.
The narrative seems to switch between the memories of his troubled relationship, creative illusions and sudden bursts of reality, courtesy of a fiery producer who wants her show completed. Quests suggests rather than tells its story, focusing on its recurring characters as it follows the threads of an idea.
Some aspects have a rather abstracted connection to the plot, including a martial arts inspired fight scene that tears around the space, a whirlwind of female passion and frustration. As a moment of dance it is strong but its intention holds less clarity.
When moving from room to room, the performance unfolds naturally, its ideas intriguing, exciting even. In situ, there are some strong moments but it feels, at times, contrived, as if the emotional engagement required from the performers hasn't been given enough space to develop. It has the unfortunate effect of breaking the performance just as it settles into a scene.
There are enough convincing moments however to carry this work through its abstracted plotline and, as Quests involves its audience from the moment they enter the space, it's easy to invest in its characters and enjoy a show that is as much an experience as it is a performance.
Reviewer: Rachel Elderkin