Quidam
Cirque du Soleil
Metro Radio Arena, Newcastle
(2009)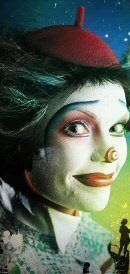 The Cirque Du Soleil is a global hit with seventeen productions running world-wide - six in various hotels in Las Vegas
It was with a great deal of curiosity that I attended Quidam, having seen excerpts of their show at the Royal Variety Performance on several different occasions across the years. I could never quite understand how they would make a full show out of the acts.
The show opens with a young girl being ignored by her parents, who disappear in to the roof in their armchairs before a headless man holding an umbrella strolls on to the stage. The Cirque Du Soleil excels at these weird and wonderful sights which help transform the stage and tell the story between the more traditional acts. Not that there is anything too traditional about what the Cirque Du Soleil does in the first place.
Once the show gets underway we see spectacle after mind-blowing spectacle. These range from a man in silver wheel racing on stage like a hamster in its wheel to young girls throwing diablos which defy belief to a girl balancing on top of poles. Each act seems to start in a straight forward manner then test the boundaries of what you thought was possible or acceptable. The best example of this is a large number of performers skipping over three ropes, on a revolving stage.
The show brings cheers and gasps from the audience, which are offset by its magically tranquil moments, which are lit so well that you could almost be watching a ballet.
Such was the power of the show I was more than disappointed by the end which seemed such a let-down after the magic that went before. Each act had seemed so impossible to top I was waiting for one massive finale: unfortunately it never came.
But such after watching the pure spectacle of the this show it is easy to forgive the weak ending as the previous two hours were so magical.
Reviewer: John Dixon