Don Quixote
Vince Foxall
Warehouse Theatre, Croydon
(2011)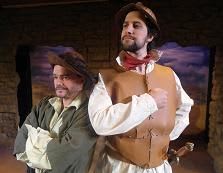 Some years ago on my very first visit to Spain, I planned to read Miguel de Cervantes two-volume classic story of the would-be errant knight. I started but didn't get very far and must confess I have never finished it. Though like most I know the outline of the story, I'm more familiar with it through The Man of La Mancha musical, the ballet and Grigori Kozintsev's marvellous Russian film with Nikolai Cherkasov as the Don. None of those were close adaptations and neither I think is this, which cherry-picks its materials, rearranges sequences and includes a story of intrigue and murder in a Ducal household and rape at home which may be episodes that others have not utilised or could be Foxall's invention. But hey, this is not a literature lesson, it is Christmas fare. Fidelity to the ur-story is not demanded of other seasonal entertainment, and a free adaptation is OK by me if it is entertaining.
Foxall follows Cervantes by starting with bookish Alonso Quixano, obsessed by the chivalric romances in his library, dreaming of a quest before he has even begun to call himself Quixote. Philip Benjamin's Don (like Sherlock Holmes) is a virtuoso of the violin. He and other members of the cast on guitar, clarinet and castanets provide their own accompaniment onstage and off. Mia Soteriou has provided plenty of lively numbers with a current of Spanish rhythms and the odd steal from Bizet. Tall Benjamin is well paired with his short, well-padded, Scots-accented Sancho Panza, a great performance from Mark Sangster, but his skinny Rocinante is a mount as imaginary as his mission.
They are supported by a hard-working, energetic team of Maia Salvador as Quixano's niece and the whore he imagines his Dulcinea, Morgan Phillips as their village priest and the murderous Marquis and Oliver Paterson and Camilla Mathias as an anti-Inquisition Duke who plans to introduce a liberal regime and his duplicitous Duchess. All the other roles are doubled between them (including a matador whose loss of a vital body part in the bullring is replaced by a horn from the animal responsible) and they can strum a tune, sing a song, flounce a fandango, manage a muleta or swash a buckle whenever such things are called for.
The storyline is somewhat befuddled but the well-known incidents are there: tilting at windmills, massacring puppets and taking a herd of sheep for marauding bandits, recounted rather than performed, though the windmill giants are ingeniously presented in shadow play, complete with Quixote carried away on the circling sails. Kim Alwyn's setting otherwise keeps things very simple: an open stage cleared for action backed by a realistic stone wall with arches through to a blue-skied landscape that sets off the colourful costumes co-designed with Leila Watts.
While Foxall's script lacks in clarity of telling, he has packed it with puns and seasonal jokiness, rhymes (sometimes rotten ones), sprinkled with Spanglish, the odd phrase book "per favor" and a favourite oath of "Mamma sangria!"and there is a zaniness of action that enables director Ted Craig to turn this into a romp. Nevertheless, it is the energy of the performers rather than the material that makes it work and, though the audience comes out happy, this isn't quite as much fun as I've usually had at the Warehouse Christmas show.
"Don Quixote" runs at the Warehouse theatre until 19th February 2012.
Reviewer: Howard Loxton