My Name is Rachel Corrie
Taken from the writings of Rachel Corrie edited by Alan Rickman and Katherine Viner
Fineprint Theatre
Rosemary Branch Theatre
(2011)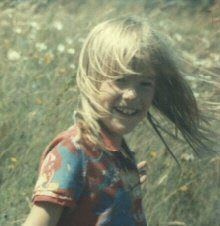 This verbatim solo piece, which draws upon diaries entries, letters, and e-mails a young American woman wrote to family and friends, made a considerable impact when it was first presented at the Royal Court in 2005 and has since been performed in many countries. It gives us a picture of a girl growing up in the security of the US Northwest with artistic aspirations and a developing awareness of the world's problems and of her reactions when she joins an international protest group in Palestine where she met her death, killed in 2003 by an Israeli Defence Force bulldozer as she demonstrated against its destruction of a Palestinian home.
This ninety-minute solo is a formidable undertaking for any actress and young Sophie Angelson makes a brave shot at it. She captures the rather self deprecatory girl we see in her untidy bedroom, wryly talking about the boy friend who dumped her, but when we move to the Gaza Strip she leaves it entirely to the text to gives us the painful picture of life there, still the bright-eyed observer. We get something of the ordinariness that can develop even in such circumstances, the fact that she can watch an American horror movie with the children of a Palestinian family in a house under threat, but we don't feel the emotion beneath it, we don't get the fire in her blood that made her go there and stay there.
Perhaps we have become so used to the Palestinian situation and all the other horrors of the Middle East and elsewhere that we need something much more dramatic to reach us but in a video clip of the young Rachel making a speech at a student protest we do see that passion and she certainly still had it as she stood in the way of the Israeli army. Scarlett Plouviez Comnas' production gives us that final clip, when Angelson steps out of character to read someone else's report of her death, projected from a hand held mobile on to a window blind. It is haphazard and improvised, like getting by in Gaza, but at the same time the fuzzy, wavering image reduces its impact. A daily diet of disaster and violence has perhaps blunted my senses, but such a long monologue needs stronger dramatic presentation and a greater emotional content to grip my attention.
When the scene shifts to Gaza the wooden framework that designer George Moustakas provides as a setting does nothing to create any atmosphere, to suggest the background to life there. Bullet-pocked walls and the sound of gunfire may seem like a cliché but we need something to emphasise the conditions that Palestinians experience as ordinary and everyday.
Run ends 30th April 2011
Performed as part of a double bill with the new play "Lines" by James Fritz
Reviewer: Howard Loxton