Racing Demon
David Hare
Crucible Theatre, Sheffield
(2011)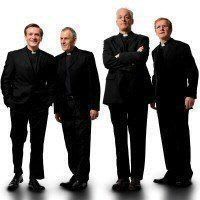 Racing Demon is the second of three plays performed as part of Sheffield Theatres' David Hare Season. Viewing three plays over three weeks provides the audience with an opportunity to become familiar with his distinctive style as a playwright, and to see how strong themes in his work are reiterated or re-worked.
Racing Demon (1990) won an Olivier Award for Best Play, and is one of a trilogy of plays on great British Institutions, in this case the Church. Each character in the play presents a different perspective on the nature of faith, and the function of the Church as a state institution.
At the heart of the play is Lionel Espy (Malcolm Sinclair), a man of 'conscience' whose faith is wavering in the context of increasing social deprivation after a decade of Thatcherism. Because he lacks conviction about the forms of church worship, including the Eucharist, he is criticised by members of his congregation, and finds himself at odds with the Bishop of Southwark, who is determined to sack him for 'incompetence'.
Lionel heads a team of vicars who spend long hours ministering to the needy in their Southwark diocese. A young evangelical joins them (Jamie Parker as Tony) who is impatient with Lionel's diffidence and wants to re-instate the passion and certainty of the gospel message, by thrusting a 'supernatural religion' on distressed individuals when they are most vulnerable. He willingly accepts the role of Judas at a Last Supper, and is instrumental in providing evidence which contributes to Lionel's downfall. An important counterbalance is provided by the atheistic Frances (Emma Hamilton).
Director Daniel Evans, has assembled an exemplary cast for this complex and challenging play. The issues and arguments are well presented, and each character is clearly defined. A large modern cathedral window dominates the rear of the stage, but adapts through clever lighting effects to a nightclub and the lobby of the Savoy Hotel. The lighting throughout is extremely effective, providing a variety of slantingly lit areas for prayers or statements of belief; and lingering spots mask scene changes and facilitate fast movement from one scene to the next.
The open stage of the Crucible proves highly adaptable for the many scene changes and provides plenty of space for debate. A visually significant moment in the second half shows the Bishop of Southwark being robed in cloak and mitre in the crypt of the Cathedral, while simultaneously delivering a vitriolic attack on Lionel, whom he is prepared to destroy as an example to any other Church Modernisers, who are responsible for "The remarriage of the clergy. The recognition of homosexual love. New bibles. New Services."
"You're a joke, Lionel," he says. "You stand in the centre of the parish like some great fat wobbly girl's blouse. Crying for humanity. And doing absolutely nothing at all." It was welcome to find a visual correlative for an important debate in the play.
"Racing Demon" continues at the Crucible until Sat 5 March.
Reviewer: Velda Harris