Radio Times
Music by Noel Gay, book by Abi Grant, script revised by Alex Armitage
The Watermill Theatre, Newbury
(2011)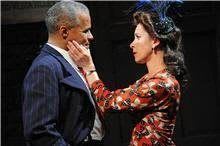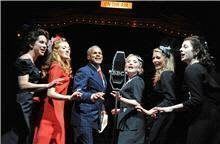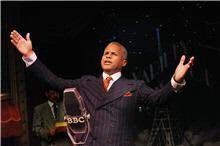 This terrific musical show is absolutely spiffing with a stellar cast who seemed to be having as much fun as the audience did.
As you walked into the foyer of the delightful Watermill Theatre you were greeted by the front of house staff wearing Second World War Air Raid Precaution uniforms and the kiosk is selling old -fashioned sweets and ginger beer.
This perfectly set the scene for the war- time Radio Days performed in the B.B.C's radio studio in the Criterion Theatre, superbly recreated by designer Tom Rogers, where the morale-boosting Variety Bandwagon is about to be broadcast to the nation and, for the first time, to the USA.
But star of the show Sammy Shaw is missing as an air raid blitzes outside and matters are not helped by the arrival of the new officious Producer who insists that the script complies with rules from the Ministry of Information and must undergo careful scrutiny.
Sammy's long suffering girl friend Olive is desperate for Sammy to commit to the relationship and her heart strings are pulled when Sammy finally arrives with special Hollywood guest star Gary Strong whom Olive had a relationship with in the past resulting in an intriguing love triangle.
And with an absent announcer and the ventriloquist nowhere to be seen there is a certain panic as the time ticks down to being 'on the air'.
Charismatic Gary Wilmot is outstanding as the cheeky star Sammy. He has a warmth and remarkable rapport with the audience who simply loved him.
He manages to persuade Mr Bultitude the Producer, superbly played by Andrew C Wadsworth, to take part in the broadcast as the announcer and a myriad of other characters all fully realized with great comic effect.
Anna-Jane Casey shines as Olive as she anguishes between choosing Sammy or Gary. She has a remarkable voice and dances with energy and vitality.
Darren Bennet perfectly captures the matinee idol Gary Strong, all filled with self- importance and star quality whilst Julian Littman is the amusing yet simple foil to Sammy who spells London with a 'U'.
Not forgetting the loveable Amy, the forces sweetheart who oozed sexuality and special mention to Christian Edwards, as the Foley artist who created the most amazing sound effects.
There was sterling support from the Grosvenor sisters - Sophie Byrne, Sophie Scott and Sarah Scowen - and Robin Colyer as Leo.
Caroline Leslie's assured and inventive direction has continued the Watermill's trademark of using actors/musicians under the very capable hands of Musical Director Paul Herbert with striking choreography by Alistair David.
Look out for the fun ukulele number as well as some old favourites such as 'Whose Been Polishing The Sun' and 'Run Rabbit Run".
Radio Times provides an uplifting evening's entertainment that deserves a West End transfer,
Reviewer: Robin Strapp