Raffles: The Mystery of the Murdered Thief
John Goodrum based on classics by E W Hornung
Rumpus Theatre Company
Pomegranate Theatre, Chesterfield
–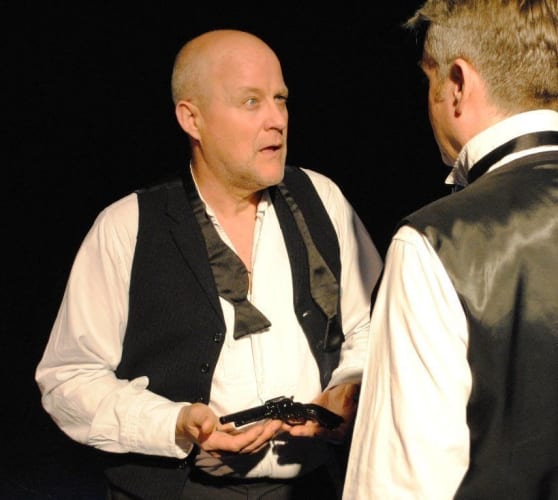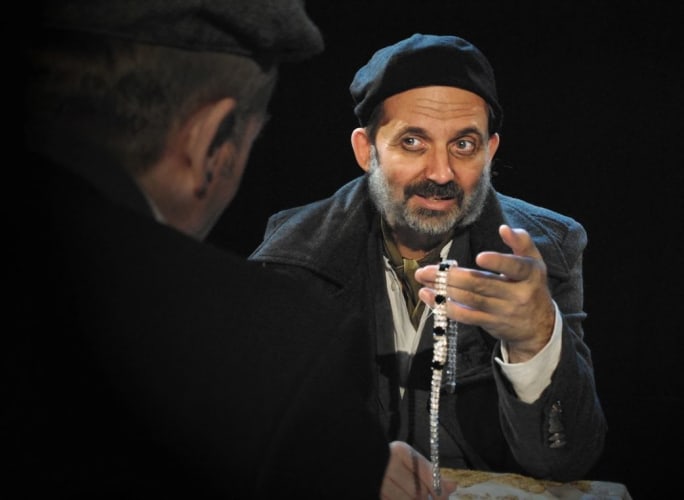 In the year that marks the 150th anniversary of the birth of Ernest William Hornung, Rumpus Theatre Company is touring a show that celebrates his most well-known character, gentleman thief Arthur J Raffles.
Hornung wrote 26 short stories and one full-length novel about amateur cracksman Raffles and his sidekick Harry "Bunny" Manders.
Rumpus founder John Goodrum has taken four of Hornung's original stories and merged them into a new adventure, Raffles: The Mystery of the Murdered Thief.
There are parallels between Raffles and Sherlock Holmes, hardly surprising as Hornung was Sir Arthur Conan Doyle's brother-in-law. Holmes's hero usually upholds the law while Raffles makes his money from stealing—although his targets are the upper classes who can afford to be robbed. Both fictional characters are masters of disguise.
Conan Doyle met a barrage of opposition when he tried to kill off Holmes; Hornung suffered similar indignation when he signalled the demise of Raffles.
The Mystery of the Murdered Thief reveals that Raffles was believed to have drowned after being arrested for attempting to steal a pearl while on a liner in the Mediterranean. Bunny was sentenced to five years in prison for his part in the crime.
The play is a four-hander, with ten other actors being credited in the programme for their voices. The number of on-stage actors has been kept to a minimum, presumably to reduce costs. Some theatregoers may not like the start, during which voices representing a judge, a prison warder and a newspaper editor fill in the back-story. But it works thanks to the commanding presence of Ian Sharrock as Bunny.
Sharrock, known for playing Jackie Merrick in Emmerdale and obsessive fan Jed Maxwell in I'm Alan Partridge, has a seemingly unending store of facial expressions. He brings out the naivete of the character as well as his complete loyalty to Raffles.
On his release from prison, Bunny uses his experiences behind bars to pen a newspaper column to make ends meet. A chance reply to an advertisement leads to an entirely different scenario: Bunny is again embroiled in his old life of burglary, mayhem, adventure and murder.
Nicholas Gilbrook gives a commendable performance as Raffles. He is suave and refined as the anti-hero; he succeeds in the role because you want him to get away with his crimes which appear justified. He also switches effortlessly to play a wealthy American and a down-to-earth crook trying to pass off his stolen goods.
Gilbrook and Sharrock work superbly together, bouncing off each other and forming a partnership which is as impressive as it is pleasurable.
Another Gilbrook, David, makes an impression as Robinson, a jeweller who is duped by Raffles, and also as Jock Baird, the cantankerous fence who engages Raffles in an intriguing battle of wits. David Gilbrook also does a first-class job as sound designer.
Nicholas Bourne does not have much chance to shine as Dr Theobold but makes a solid contribution, particularly when the character is involved in nefarious behaviour towards the end.
Raffles: The Mystery of the Murdered Thief does not contain a lot of action, the story being unravelled for the most part through long speeches. But Goodrum as writer and director points the production in the right direction while the experience and talents of Nicholas Gilbrook and Ian Sharrock ensure the play is as successful as most of Raffles's criminal capers.
Reviewer: Steve Orme