Rags the Musical
Book by Joseph Stein, music by Charles Strouse, lyrics by Stephen Schwartz, revised book by David Thompson
Aria Entertainment and Hope Mill Theatre in association with Knockhardy Productions
Hope Mill Theatre, Manchester
–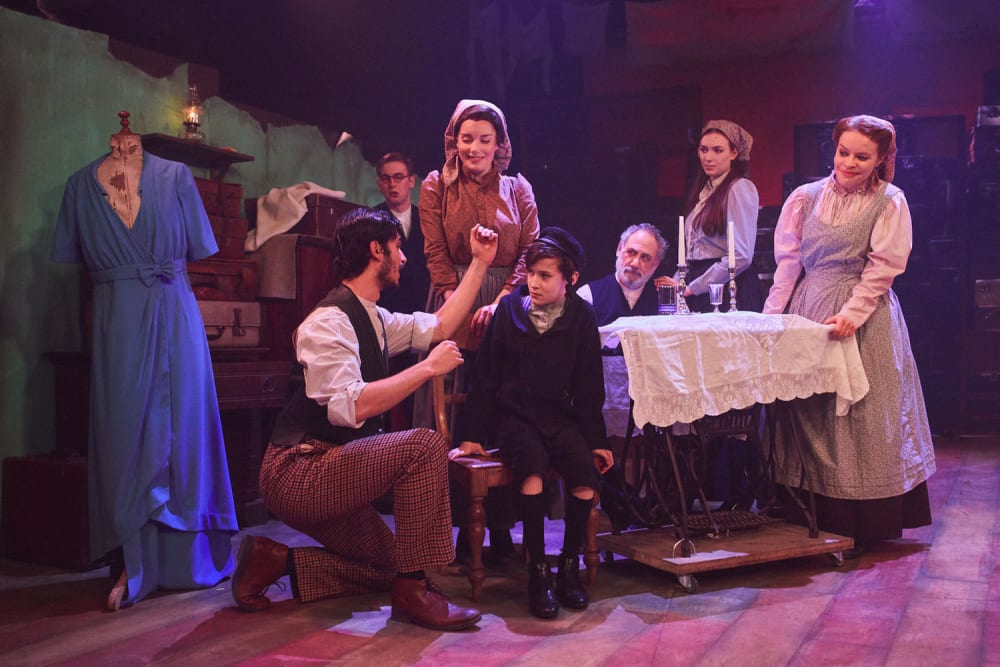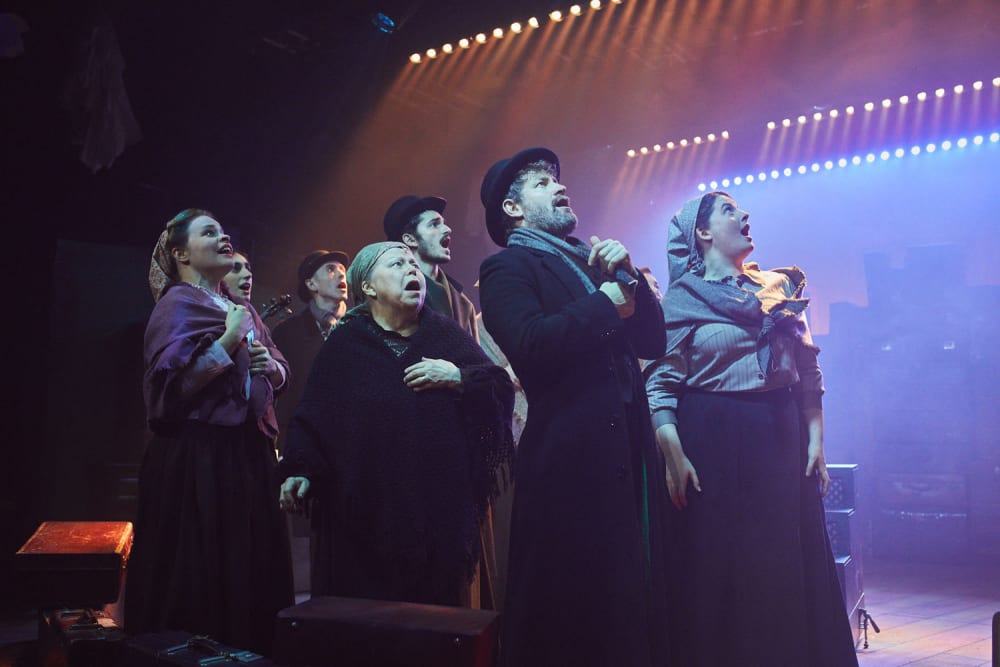 Hope Mill's latest musical revival is of a show that never took off the first time around, despite a writing team of Joseph Stein (Fiddler on the Roof) on book, Charles Strouse (Annie) on music and Stephen Schwartz (Godspell, Wicked) on lyrics.
With a book extensively revised by David Thompson in 2017, the show is, according to director Bronagh Lagan in the programme, "often described the sequel to Fiddler on the Roof"—perhaps to emphasise this, her production begins with a lone violinist on stage. While the earlier musical ended with the break-up of a Jewish town in Imperial Russia in 1905 as some of them tried to escape the pogroms to America, Rags begins in 1910 as some of those Eastern European Jews arrive on American soil, looking for work and a more peaceful life.
As the ship arrives at Ellis Island, Bella (Lydia White, in an impressive professional stage debut) is meeting her father Avram (Michael S Siegel), who migrated to America some time earlier. She has made friends on the ship with Rebecca (Rebecca Trehearn) who is travelling with her young son David—played brilliantly by George Varley at the reviewed performance and by Lochlan White at some performances—but doesn't have any of the requirements for acceptance in the US: a job, relatives to meet her or $20. Bella persuades her father to tell the officials she is her niece, but then they have to persuade Avram's brother Jack (Tim Walton) to let her stay. Jack is reluctant, but becomes keener when he sees how well she sews, as he and his family make dresses for local German Jewish businessman Bronfman (Gavin James).
The story has been changed substantially from the original to confine the events to this one household and the people who come into it rather than trying to take in a multitude of characters on the Lower East Side, creating an intimacy that works much better on Hope Mill's small stage. In this version, Bella meets her love Ben (Sam Peggs), a budding songwriter, when she arrives, not on the ship, and Rebecca's husband never made it out of Russia so she ends up in a romantic triangle with Bronfman, who wants to set her up in a shop of her own, and Italian Catholic neighbour Sal, an activist for workers' rights who doesn't trust Bronfman or any of the business owners. Everything is brought to a head as Rebecca is given reason to doubt Bronfman's motives and there is a workers' strike and a fire at the factory where Bella works, all at the same time.
The script still feels like a show in transition, as there are bits and pieces of the old script still hanging around that raise issues that the writers clearly felt they wanted to address but are now just fragments that don't go anywhere. The song "Take Our Country Back" ("our border's porous") may contain lines that could be out of today's US or UK political discourse, but this rarely affects the plot directly until much later; the business owners rubbing their hands together at the thought of the "Greenhorns" arriving on the ship becoming their factory fodder doesn't relate to the characters whose stories we follow.
Gregor Donnelly's set design is based around suitcases, emphasising the constant movement of these communities, which works well and looks great, but just occasionally jars with the script. The production has some fine moments, but there are a few parts of scenes and transitions that look a little underworked. This is an all-round strong cast with great singing voices and with a great-sounding band, split between four musicians hidden away and four actor-musicians who come on stage as the ensemble.
Overall, it's a pretty decent production of a show that has its heart in the right place and an important story to tell, but even after more than thirty years years it still looks like a work in progress.
Reviewer: David Chadderton