The Railway Children
Adapted from E. Nesbit's novel by Mike Kenny
Produced by York Theatre Royal and the National Railway Museum
The National Railway Museum, York
(2008)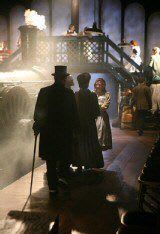 It's rare to see a production and leave speechless, with tears in your eyes. However this is one such and cannot be recommended strongly enough. Mike Kenny's adaptation of E. Nesbit's novel and Damien Cruden's direction of The Railway Children will make you laugh, cry, sigh, gasp and your heart ache for a beautiful story, fantastically told. If you do nothing else with your children this summer, take them to The Railway Children and leave mesmerised yourself.
Peter, Roberta and Phyllis are three siblings who live in established circumstances in London, until something awful happens to their father and he is taken away from them. As the family's reputation and money begin to run out, their Mother (profoundly played by Andrina Carroll) moves them to Haworth in Yorkshire, where they live near to the railway and run down to wave to the 9.45 train to London everyday. They find an Old Gentleman (Colin Tarrant) regularly waves back and so begins their relationship with the railway. Along the way they meet Perks (Marshall Lancaster) the Station Porter, Schepansky (Robin Simpson) a Russian political refugee, Mrs Viney (Jacqueline Naylor) the Cook, not to mention Stirling Single, a 39 tonne steam locomotive built in 1870!
Yes, a full sized black, green and gold steam train graces the stage - as the programme says - one of York Theatre's 'biggest guest stars' ever to sweep onto a stage. Maximising this effect director Damien Cruden sets the show in traverse, in a railway station with the audience designated seats on either Platform One or Two. From the moment you step into The Depot tent in the National Railway Museum the design of this production is an absolute delight, with the ushers dressed as railway workers, Edwardian signs reminding you that Pears Soap is still the only brand to wash with, suitcases and platform trolleys galore, and a beautiful station bridge at one end and a signaller's cabin at the other. Not only does Cruden wave a steam train on to his stage but he also has the actors alighting a rolling stage which bridges the gaps between the railway tracks. This presents the audience with a mesmerising production of finely choreographed moving stages, nimble actors and finely tuned stage management that all work together like clockwork. If only the railways were run this efficiently!
Cruden's spotless cast weave their tale both addressing the audience and squabbling like the Railway Children that they were. The title roles are taken by established actors Sarah Quintrell (Roberta), Jonathan Race (Peter) and Frances Marshall (Phyllis) who look back on their youth as Railway Children and narrate parts of the story whilst delving into the action in others. This provides the strong authorial voice that is present in the book but not in the famous film. York Theatre Royal also engage five teams of young actors who take on various different roles. These include Perk's children, runners in the paper chase race, train travellers and they even provide the avalanche that Phyllis and Bobby famously strip off their red petticoats for. All the performers are nothing but excellent, and only further complemented by a mischievously impressive performance by Marshall Lancaster as the Station Master at Leeds and the endearingly proud Mr Perks.
Joanna Scotcher's design is superb throughout from such details as the ripping flannel petticoats to the inspired railway tunnel. This impeccable production never ceases to amaze, transport and overwhelm. However, despite this thoroughly impressive box of tricks surrounding the piece, in the final moments when Roberta utters the famous words 'Oh! My daddy! My daddy!' it is this powerful piece of story telling that leaves you with tears in your eyes. Go and see it now.
Reviewer: Cecily Boys