Rain and Zoe Save the World
Crystal Skillman
Drew & Dane Productions
Jermyn Street Theatre
–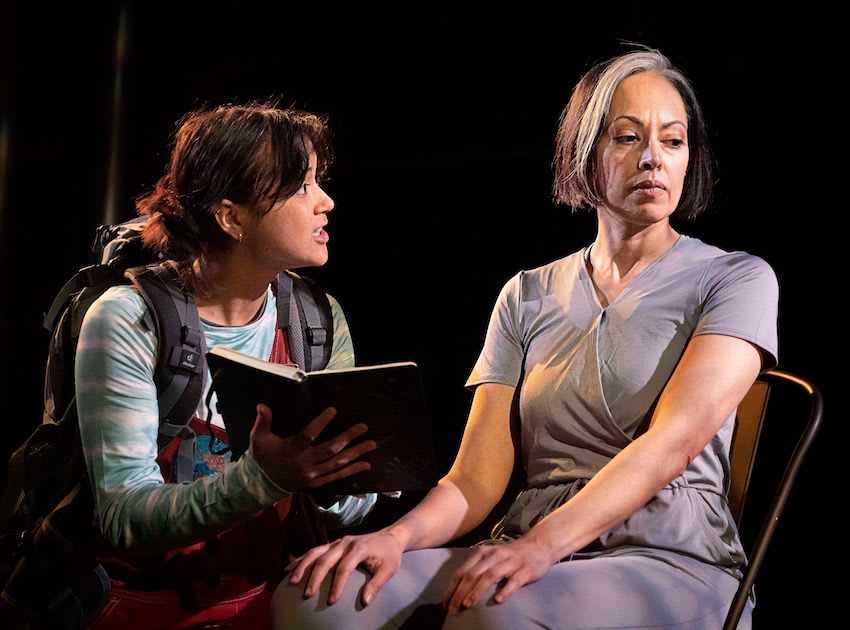 Rain and Zoe are a couple of Seattle teenagers who want to help save the planet. Zoe's mother was a protestor who went off to engage in action. She never came back but she did leave a journal behind. This has inspired her daughter, who is now in trouble at school for the disruption she causes. Zoe believes she has caught sight of her mum in a news report so decides to cross a continent to join her.
The boy next door, whose dad has been killed in a motorbike crash, is the victim of bullies but Zoe rather fancies him and he's clever at science. She talks him into joining her and they set off together on their road trip on what had been Rain's dad's bike.
First stop (800+ miles along the route) is Yellowstone National Park where with howling coyotes and hooting owls Rain realises just how inadequately Zoe has planned things. They survive a minor accident without any injury and Rain does repairs imagining how his father would have done them. Next stop is in Minnesota where they find a poisoned pond, its frogs killed by contaminates from a chemical plant where what Rain seems to have planned as a peaceful glitter bomb to attract attention proves much more destructive.
Now, in effect, they are on the run. Can they evade capture and reach that East Coast demo?
In a telling that takes in the climate crisis, ecological issues, the argument for passive or violent protest, overcoming grief and loss, making connection, discovering love and a whole lot of other things, there's little chance to develop any particular theme and things move on somewhat unreally like a child's imagination. While its heart is very much in the right place, it doesn't argue its case but assumes an audience in agreement.
Mei Henri, making her professional stage debut as Zoe, is a ferocious if rather scatty rebel, sometimes making more noise than sense; Jordan Benjamin's more sensitive Rain takes time to think about things. Their developing relationship is shown through their playing without too much help from the script.
All other parts, from the youngster's parents to a couple of global warming deniers, are played by Richard Holt and Salma Shaw. Holt makes a real character out of Rain's ghost-figure dad and a delightful green frog, among other roles. Shaw is particularly touching as Zoe's silent mother, discovered in a retreat for burnt-out activists, and poses poetically when asked to personify the moon which Zoe sees as a link with her mother.
Writing and production embrace styles that range from that fantasy to a mimed sequence playing out a manga zombie plot. Harsh Ellis's direction and Zoe Hurwitz's design are full of invention with a revolve in the centre of a fake grass sward turning into a lake, projections and Holt and Shaw becoming the motorbike, with some help from composer Bobby Cronin and careful lighting.
You may wonder how Rain's guitar seems to turn up when a song occurs (it's not slung over their bulging backpacks) or how Zoe or Rain caught up when the other took off on the bike alone, but the cast certainly earned the warm reception they got on press night.
The play was given a first performance by University of Alaska Anchorage students after winning the 2018 Earth Matters on Stage (EMOS) New Play Competition but this is the play's professional world première. It's another example of US producers choosing to first mount a performance is London.
Reviewer: Howard Loxton