Rain Man
Dan Gordon, based on the screenplay by Ronald Bass and Barry Morrow
The Classic Screen to Stage Theatre Company
Leeds Grand Theatre
–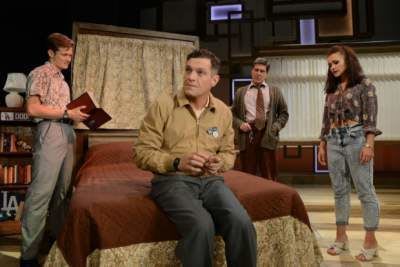 For many years, the traffic between stage and screen appeared to be mostly one way, with hit plays like A Streetcar Named Desire and Amadeus being made into prestigious Oscar-winning films. In recent years, however, many theatre makers have turned to the cinema for inspiration. Putting to one side the ever-growing number of movie-inspired musicals (The Lion King, The Producers and Hairspray, to name but a few), great directors like Emma Rice and Ivo van Hove have used their considerable talents to reimagine such diverse classics like Brief Encounter (1945), The Umbrellas of Cherbourg (1964) and Network (1976).
It's been nearly 30 years since Rain Man won Best Film at the Academy Awards. While I wouldn't describe Barry Levinson's odd couple road movie as a classic, it is certainly a well-made piece of commercial entertainment and boasts towering performances from Dustin Hoffman and Tom Cruise.
Dan Gordon's stage adaptation sticks closely to Ronald Bass and Barry Morrow's Oscar-winning screenplay. When cocky young salesman Charlie Babbitt (Ed Speleers) learns about the death of his estranged father, he returns home to claim his $3 million inheritance. However, his father's lawyer informs him that the fortune has been left to Raymond (Matthew Horne)—the autistic older brother he never knew existed.
Against the advice of Dr Bruener (Neil Roberts), Charlie takes Raymond away from the institution where has spent most of his life. His initial plan is to find a way of exploiting his brother in order to acquire his rightful half of their father's money, but as the two brothers travel across America together Charlie develops real affection for his older sibling.
It's sometimes difficult to gauge why some films transfer successfully to the stage and others do not. In 2011, some theatre critics were baffled when Graham Linehan (co-writer of Father Ted) turned the classic Ealing comedy The Ladykillers (1955) into a stage show. Why bother to re-make a film that is widely regarded (although not by me) as a masterpiece?
Rain Man gains little from being mounted on the stage. If Dan Gordon had found a way of unshackling the show from its cinematic roots then the show might have been a worthwhile endeavour, but as it stands the play feels like an inferior replica of a perfectly entertaining buddy movie.
That being said, Rain Man manages to preserve some of the crowd-pleasing qualities of the film. By the end of the show, I was more invested in the Babbitt brothers' relationship than I had expected and this is largely due to the quality of the two leading men. Matthew Horne gives an impressive performance as Raymond, skilfully capturing the character's range of verbal and physical tics whilst hinting at a misunderstood interiority lurking beneath the surface. In his first stage role, Ed Speleers manages to capture some of Tom Cruise's bravado and convince us that his character has rediscovered his capacity for love.
There are solid supporting performances from the rest of the cast, particularly from Elizabeth Carter as Charlie's long-suffering girlfriend, but Rain Man is really a two-man show.
Jonathan O'Boyle's slick, purposeful direction ensures that the pacing remains tight and Morgan Large's retro set design shifts seamlessly from scene to scene.
Rain Man is not a bad show by any means. It is often funny and the relationship between the two brothers pulls at the heartstrings. I just wish the creative team had tackled the original film in a more imaginative, theatrically exciting way.
Reviewer: James Ballands