Rain Man
Dan Gordon, based on the MGM motion picture, story by Barry Morrow
The Classic Screen to Stage Theatre Company
Yvonne Arnaud Theatre, Guildford
–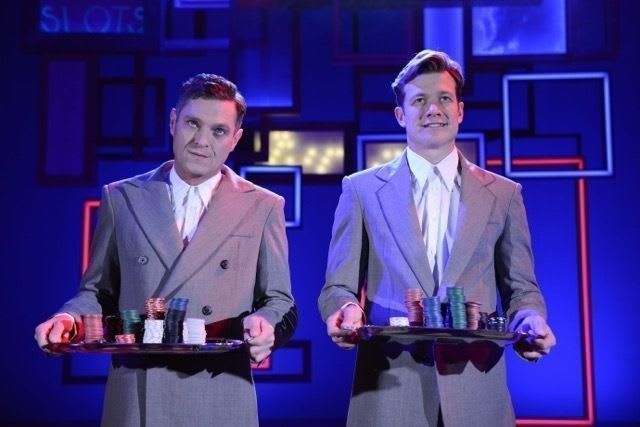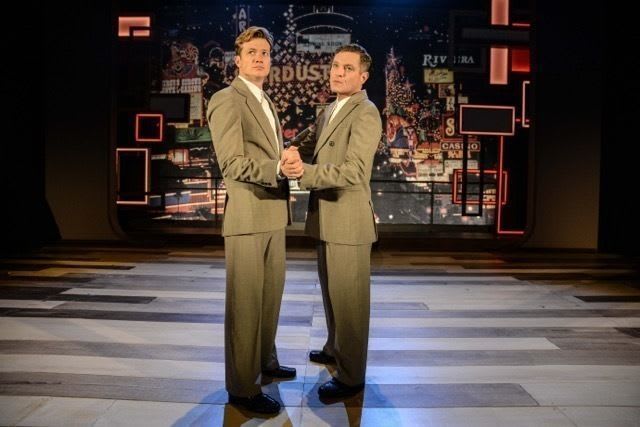 Bill Kenwright seems to have reinvented himself once again to become The Classic Screen to Stage Theatre Company.
Not the first time this has been attempted and I find I usually prefer the stage version, but this time—well Tom Cruise and Dustin Hoffman are a very difficult act to follow and here this production gets off to a rather disappointingly slow start. With a backdrop of simple rectangular frames and only two office desks as props, the credibility of the situation relies on direction and performance and in this instance it doesn't quite ring true.
Wheeler-dealer Charlie (probably thinking of himself as an entrepreneur) is in a spin. His car business is in deep trouble and will probably have to close with heavy debts and his creditors are pressing. The frantic worry, panic and intensity of the situation not are really apparent in this scene, not helped by Ed Speleers's enunciation together with his American accent rendering some of the dialogue inaudible (especially when turning with back to the audience).
Moving on, however, we learn a little more about Charlie and the story becomes very interesting. A solicitor reveals that Charlie's father has died and the news is greeted with contemptuous indifference until he learns of a previously unknown autistic brother who is being cared for in a mental institution and the institution, and this brother, will inherit a fortune. "I want my half" demands Charlie, "I deserve that!"
Virtually kidnapping his brother, hoping to somehow get what he considers his due, the two set off on a long road trip and, in Las Vegas, Charlie realises that his brother's ability to memorise prodigious amounts of information with only one look could be very lucrative in the casinos.
There is a lot of laughter in this play, mostly by the consequences of brother Raymond not understanding the world outside the institution, but also some seriously touching moments as the brothers get to know each other. Some of the best scenes are Charlie beginning to have memories of his childhood when Raymond used to comfort him when he was frightened, and a feeling of family and belonging stirs between the two.
Barry Morrow, who wrote the original story, based it mainly on a man called Kim Peake whose total recall of anything he ever read (and it seems he was a prodigious reader) led to his being known as 'Kim-puter' by his friends.
Here Mathew Horne, who actually has an autistic brother, plays a Raymond with the same computer-like brain, but possibly also bases his character's foibles on those of his sibling. It's a very remarkable performance and one which brought the audience to its feet with appreciation at curtain call.
Despite the slightly rocky beginning, the play really grows in strength and feeling and turns out to be a very worthwhile and enjoyably interesting theatrical experience.
Reviewer: Sheila Connor