It's Raining in Barcelona
Pau Miró, translated by Sharon G. Feldman
Good Night Out
Cock Tavern Theatre
(2011)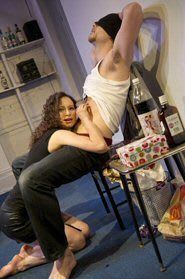 The dialogue is good, the characters are interesting, yet it doesn't quite work. It's Raining in Barcelona by Catalan playwright Pau Miró, translated by Sharon G. Feldman, is too funny to be be a drama and too dramatic to be a comedy. Ultimately, it falls flat.
Lali is a Pygmalion-esque character, a prostitute with aspirations to be better. Her pimp boyfriend doesn't understand it but indulges her need for literature by reading her lines of philosophy and poetry off of sweet wrappers. Lali's favourite client is David, a bookshop owner whose wife is dying. He visits Lali to look at her, but not to touch.
Each character is interesting, yet they seem incomplete. Lewis Hayes as the pimp boyfriend Carlos is simple and funny, but this snapshot of life play never reveals anything about him. Although not quite a 2D character, he seems to have no background and no motivation other than to have enough money for McDonalds.
Similarly, little is revealed about David - does he love his wife? Why does he look but not touch? Matteau Varda's character is funny, pitiable and creepy, yet he's never enough of one or the other for the audience to feel much for him. Rebecca Herod's Lali is perhaps the most rounded character. Although she is too sweet and naive to be a prostitute, her frustrations and aspirations make her a much more understandable person.
Mostly, this production just needs to be heightened. It's as though director Tanja Pagnuco is too scared of making the play about one thing or another and the result is a watered down attempt at everything. At the end, Lali gets her dream - sort of, but are we meant to feel happy that she has? Or sad that her situation is still relatively the same? The conflicts between the characters, which should be driving the narrative, need sharpening and are often amusing rather than tense.
Reviewer: Emma Berge