Rainbird – The Tragedy of an Artist
Peter Mortimer
Cloud Nine Theatre Company
The Exchange, North Shields
–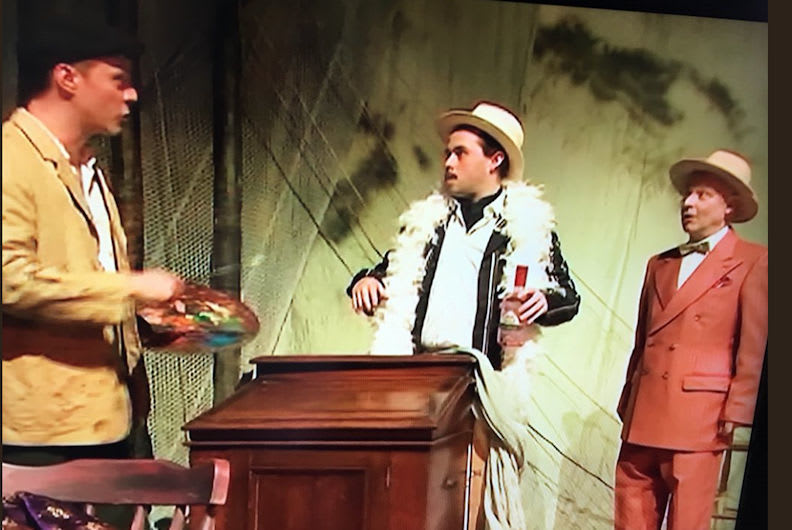 Creating a biographical play is fraught with difficulties: what do you leave out? what do you keep in? If it's historical, do you try to make it relevant to today or leave it firmly in its historical context? If it's about an artist, how much should be about the art and how much about the man? Do you focus on one significant part of his life or try to tell his whole story? We could fill a page or more simply listing these problems.
Victor Noble Rainbird was born in North Shields in 1887, studied at the Royal Academy of Art where he won prizes, and had a successful career as an artist, painting all over the world. He was a good friend of Augustus John and knew—but would not, I think, call himself a friend of—Gerald Brockhurst.
He volunteered for and served in the Great War where he was exposed to mustard gas and suffered shellshock. The army used his artistic skills by sending him out into no-man's land to make accurate drawings of German defences, an extremely dangerous and traumatic job. Badly damaged by the War, he took to drink, his marriage broke up and he died penniless, lying in a pauper's grave for 80 years until, in 2016, a public fund-raising campaign led to a specially sculpted headstone being placed on his grave.
This is not a spoiler! These are facts known to anyone who knows of Rainbird—or who reads the writer's prologue in the programme.
What Peter Mortimer has chosen to do is to take selected, significant incidents in his life and stage them (with occasional direct addressing of the audience), interspersed with a modern story based around the rediscovery of one of his paintings in a junk shop in Newcastle, a painting which was significant in his relationship with his wife Liz.
Inevitably, the piece is very episodic and Mortimer makes events which may be separated by days, weeks, months or even years slide into each other, which puts a lot of pressure on the actors who, it has to be said, rise to the challenge.
As Rainbird, Jamie Brown conveys the fierce passion and dedication he has for his art, the central focus of his life. As he says frequently, he lives and breathes painting. Even in the heart of battle, he finds beauty and magnificence. Brown's Rainbird is totally convincing, even to the point of annoying us with his almost monomania and his inability to see anyone else's point of view.
Heather Carroll's Liz Rainbird engages our sympathies throughout as she goes from the first joys of love, through desperately clinging to what she had, to final acceptance of her loss and moving on to a new stage in her life.
Sarah Boulter and Jacob Anderton convincingly play their 21st century counterparts, Hayley and Clive, whose characters and relationship echo—although do not reproduce—those of Rainbird and Liz.
The rest of the cast—Lawrence Neal, Dale Jewitt, Michael Carruthers, Sean Kenney, Dave Young and Kyle Morley—play 18 parts altogether, switching effortlessly between them.
I do find it strange, however, that in the entire play we only see one painting. Given that his passion for painting was what drove his life, I would have expected more, perhaps the Angel of Mons, representing his often mentioned "Guardian Angel", which he is seen actually working on feverishly towards the end of the play. Designer Alison Ashton's slightly dirty blank canvas backdrop seems tailor-made for such a projection.
Director Neil Armstrong has been directing plays for Cloud Nine for many years and, as usual, approaches his characters with sympathy and understanding whilst keeping the piece tight and smooth-moving.
If the first night audience reaction is anything to go by, the people of North Shields will be well pleased with this portrayal of one of their famous forebears.
Reviewer: Peter Lathan