And the Rain Falls Down
A Fevered Sleep/Lyric Hammersmith co-production
Young Vic Maria Studio and touring
(2011)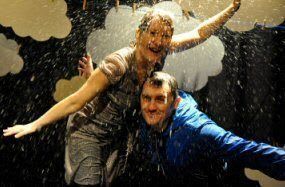 And the Rain Falls Down is a show specifically designed for 3-4 year-olds. It is very simple and it uses almost no text, only a handful of words; "drip", "stop it", "sorry", "I'm wet", and a single-word song about rain, which is what the whole show is about of course.
At first there is actress Karina Garnett, looking very innocent and little-girlish, who seems to be hanging out some very fluffy clouds to dry on a washing line. When everyone is in and settled down she goes away then puts a hand back through the curtains of the set as though to see if it is raining. She climbs back through the gap and sees whether one of the clouds is dripping, then different positions to check for rain.
A man in an blue anorak with a hood pokes his head through the curtains to check what's happening, He's just as innocently child-like, disappears and then puts in a yellow-wellied foot before coming properly through and then follows his friend in trying to see if it might be raining.
What's that on the girl's hands? there are spots and they are shining. Look where she is. It is raining. What happens when it rains? What can rain do? That's the show really: two people, very like us - just a bit bigger that's all - finding out about rain and having fun with it. Doing things you have probably been told you mustn't and getting very very wet as they do it!
Look how the rain bounces off different bits of you: ands, arms, head, shoulders. What happens when you reach up to it? If it is falling, can you catch it and move it to somewhere else? Well, there was no harm in trying. Can you catch rain in your mouth? What does it taste like?
When rain falls it forms a puddle you can splash in. More rain and it's a pool and maybe you can swim in it. Ducks paddle across, quaking very quietly; a paper boat can float, than circle in an eddy and get sucked down the plughole (yes there are plug-holes, that's not something you usually see in puddles). Now there has been so much rain that a plug hole has turned into a fountain and the boy/man has found he can make it squirt up into an arch or over there, look out it is coming our way
If you have an umbrella it's dry underneath and if you twirl it the rain swirls off and sprinkles anyone nearby with water. Yes, I got wet. Did you? Then lots of little umbrellas appear and we can all jump in the puddles if we've got wellies or take our shoes and socks off. That little boy sat down in the puddle and look his bottom is very very wet.
The rain has stopped now and we all go back and sit down with mum or dad or whoever brought us. Look the sun has come out. Do you know what happens then if you are lucky? Yes, a rainbow. But I have never seen one like this before made from colourful umbrellas.
I liked it and so did almost everyone except for that little boy who said he didn't like it anymore and perhaps the one who started stamping his feet half way through. But it didn't matter, the rest of us had a great time and I see why mum said the theatre suggested taking a towel and a change of clothing!
Runs at Young Vic until 12th March. Then MAC, Birmingham 16th - 20th March, Bristol Old Vic 6th - 10th April and Unity Theatre, Liverpool 13th - 16th April 2011.
Reviewer: Howard Loxton