Rallying Cry

Apples and Snakes
Battersea Arts Centre
–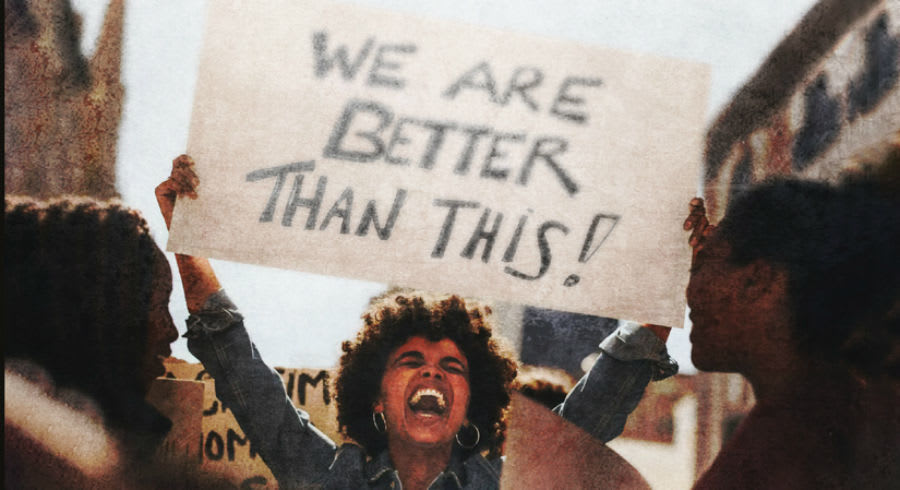 Pop into the Battersea Arts Centre for a quick drink at the wrong time and you might think the place was under political occupation.
There are huge placards declaring such things as "Migration is a human right" and "Don't forget the Northern Working Class".
And if a performance of the ambitious Rallying Cry has begun, then the crowds gathering at the entrance will be addressed from a spot midway up the grand stairs by Peter DeGraft-Johnson who tells us among other things that "the times they are a changing".
Below him, the Beatbox Academy raps about the Brixton Riots and then one of their number, an eight-year-old, gives an intense solo delivery of part of something probably called "We can do it".
This is the Apples and Snakes celebration of thirty-five years of fomenting poetry with a social conscience and what better way to celebrate than a gathering of performance poets with a loose brief to create a "raucous call to arms… to celebrate and empower those taking a stand."
We are divided into groups that are given titles such as "campaigners" or "whistle blowers" or "protesters". Poets wait to perform in nine rooms. Each of the groups gets to see three of these rooms.
The group I joined first visited the Hull-based Chiedu Oraka, who refers to the litter-strewn street scene of the BAC's New Committee Room as the Green where there are "no winners, just losers. Just addicts and abusers… let down by the system." Its a bleak poetic account of its people and the need for change.
Our next stop is the Members Bar rigged out like a boxing venue, except that barbed wire replaces the ropes of the raised boxing ring.
This is where Joelle Taylor's ferocious poetic delivery rages against a history of mistreatment and the need to struggle for respect.
Each round of the boxing match is given a title such as "Round two: Body is a placard" and "Round four: Body is a cemetery".
Joelle conjures up striking images: "God is a man with his hands in his pockets", "Not one of my friends is allowed to live in her body unaccompanied", " Your trench is crowded with dead women".
It is a riveting performance I wanted her to immediately repeat.
But we are taken to the Members Cloakroom which is organised for a political meeting about the death of young black males and addressed by Roger Robinson who details the case of Stephen Lawrence without naming him. Two white audience members (plants) heckle him.
As the groups headed for the main stairs, singers gave us a gospel version of the "Internationale".
Finally, everybody gathered in the grand council chamber where Zena Edwards standing on a high balcony reminded us that "we marched against apartheid… the NF… the Iraq War… and for the people of Grenfell."
As a reggae band prepares to perform, she urgeds us to commit ourselves to "acts of revolutionary kindness".
Reviewer: Keith Mckenna