Welcome to Ramallah
Sonja Linden and Adah Kay
iceandfire
Arcola Theatre
(2008)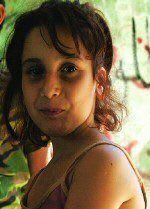 Ramallah (the Arabic word literally means 'Height of God') is a town of 118,000 inhabitants in the middle of the West Bank about six miles north of Jerusalem and the unofficial capital of the Palestinian National Authority. Co-dramatist Adah Kay lived there during 2002-6 working and volunteering for NGO and the Palestinian Open University and kept a detailed diary of her experiences, so this fictional piece draws on first hand knowledge.
It presents us with Mara, a Jewish woman from Britain who is living there; she seems to have gone originally to protest against the bulldozers razing Arab homes and stayed to offer humanitarian support. Here she is joined by her elder sister Nat, now married to an American and living in Cleveland, who, one year after their father's death, has come to bury his ashes on the land of the kibbutz where the sisters were raised, ashes which Mara has with her.
Mara is clearly forming an attachment to Daoud, a Palestinian whose family she has helped, a man with a mentally-ill wife whose marriage is no longer a real one and is thinking of divorce. He and his uncle Selim visit to welcome the sister to Ramallah and they are trapped there by curfew and an Israeli search for a wanted militant.
Both sisters have fond memories of the landscape, the olive trees and orange groves, of the kibbutz where they were children and Mara has already discovered that Selim shares similar memories and that they are of the same place, the village from which he and his family were forcibly expelled in 1948. She has contrived to get Nat to Ramallah to confront her with the Palestinian situation and give her first-hand experience of it. She does not want her father's ashes buried at a place that Selim cannot even visit, let alone return. And there is more for both sisters to discover.
John Moraitis gives a fine performance as the aging Selim, revealing his boyhood memories, good manners hiding the strength of his feelings, despite the provocation of Nat's thoughtlessness insensitivity. Whatever his former militancy, Christopher Simon plays Daoud as a balanced, caring moderate. Both men are perhaps too likeable, though there is an underside revealed.
Shocking though the fictional revelations here are, they cannot of the cumulative emotional impact of Stories Under Occupation, which Ramallah's own Al-Kasabah company brought to the Royal Court a few years ago, presenting its actors' personal experiences in Ramallah, but the dramatists here are not only wanting to draw the Ramallah situation to our attention but are also looking at attitudes to past events, family loyalty, responsibility and guilt and how people handle them.
Fraught family relationships and an ethos of guilt are often a matter for Jewish comedy and I could wish that director Sue Lefton had allowed a little more freedom to the humour implicit in the relationship between the sisters with the complacently settled Nat always hectoring her younger sibling. This might have stopped the plotting from seeming quite so contrived and allowed Shuna Snow as Mara to seem less of a cliché for insular and uninformed America and helped her and Lolly Susi as Nat to give deeper dimension to their characters. It would have helped to allow the play to take more time instead of shoe-horning so much into its relatively brief span. There is already a clear place for an interval if one should be needed which would still have allowed the escalation of emotion in its latter half.
Nonetheless, this is a frequently very moving attempt to give a personal dimension to a dilemma that blights the Middle East and to share an experience of Palestinian life that largely lacks this involvement when reported in news media.
At the Arcola until 18th October 2008
You can keep up date with events in Ramallah on www.ramallahonline.com
Reviewer: Howard Loxton