Rambert featuring Rooster

Rambert
The Lowry, Salford
–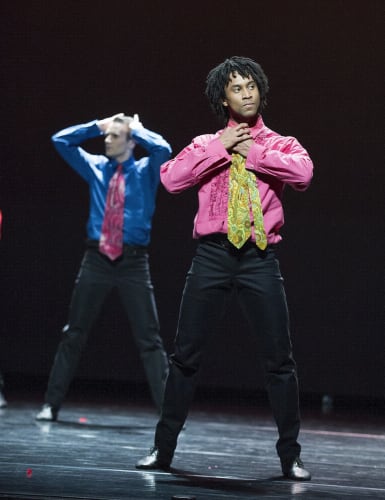 The annual autumn visit by the country's leading contemporary dance company is always eagerly anticipated, even more so when it includes their one-time perennial party piece Rooster, back in fashion after too many years away from the stage.
It's the one set to a suite of eight early Rolling Stones hits and captures all the hedonistic style of the 60s in a range of courtship dances that range from the courtly to the clubland. The re-staging here chooses to set the 10 dancers against a largely black background when the vivid red of earlier performances seemed much more in keeping, but the dancing and the overall effect remains one that will always imprint itself on the memory.
The same might not be said of the other three dances in this night's programme.
The Strange Charm of Mother Nature is a new dance piece for Rambert, but another inspired by its continuing fascination with science and nature. Mark Baldwin's choreography is based on the particle physics bring investigated by the Large Hadron Collider. Sets of dancers in primary colour costumes spin and collide about the stage, but it is in the third, quieter movement when their actual stillness evokes the strongest response.
Two vintage pieces, from the over-indulged 1970s repertoire of modern dance, complete the evening but both look tired and dated for all their astonishing technique.
Dutiful Ducks is set to a piece of tongue-twisting prose by Charles Amirkhanian and is given suitably torso-twisting choreography by Richard Alston. But other companies have been more successful than this with more contemporary use of rap and hip hop lyrics.
Similarly Sounddance might once have been regarded as avant garde, danced as it is to what best sounds like birdsong being performed under water—or Drowning Ducks? Nowadays it looks, and sounds, plain old fashioned.
When so many other young British companies are pushing at dance boundaries it would be a shame if Rambert were left behind in a post-industrial dancescape.
Reviewer: David Upton