Rambert triple bill

Rambert
The Lowry, Salford
–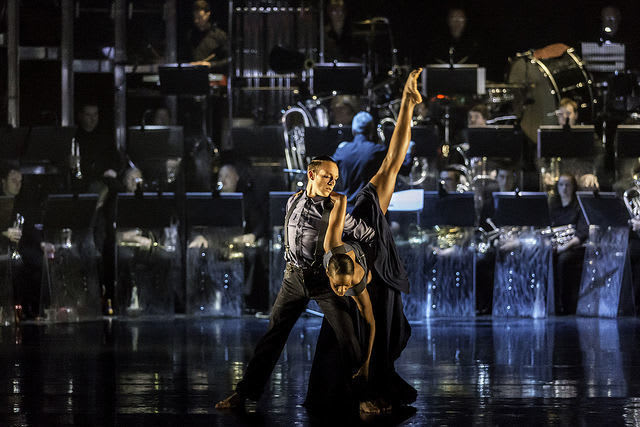 One dance inspired by Pablo Picasso's Cubist painting, and another by the 30th anniversary of the miners' strike.
Paradoxically it is the latter that is the most abstract work in the current programme from Britain's national dance company.
Dark Arteries is a brand new piece premièred by Rambert at Sadler's Wells in May and now part of its current tour. Around the country it is 'backed' on stage by various local brass bands and Gavin Higgins's fractured and discordant score is tackled here by the Stockport-based Fairey Band.
It's a piece of music you're never likely to hear in a brass band competition.
The deeply-mined tuba notes can't help but induce audience titters, and not just among the Rambert's always-faithful youthful following. The music, like the dance itself, does gradually open out into something more lyrical and significant but you would have to dig deep to discern its connection to coal mining or industrial strife.
The vivid lycra-clad duets within its third act are nevertheless a contemporary dance signature of Rambert's power and control, and an indication of things to come.
Far more accessible is The 3 Dancers, in fact danced by six, but you sense Pablo would have approved of such contradiction...
Didy Veldman's intricate, occasionally lattice-like choreography, sees two groups of three dancers weave elaborate shapes to create length, breadth and depth to the notion of Cubism. It plays with form and perspective in delightful and constantly-surprising ways and looks to be in danger of edging itself into Rambert's Top 10.
Completing the current week's programme is Terra Incognita, a recent dancework from choreographer Shobana Jeyasingh.
It has been fascinating to watch her style evolve, over the years, from its roots in classical Indian dance to a broader palate. Here it expands fully into a three-act work based on journeys, difference and distance.
Gabriel Prokofiev's music seems to layer that of his grandfather over an insistent tabla drumbeat and it provides a rich and colourful backdrop to an enigmatic creation.
Reviewer: David Upton