Rambert: Wayne McGregor, Marion Motin, Hofesh Shechter
Wayne McGregor, Marion Motin and Hofesh Shechter
Rambert
The Lyric, Theatre Royal Plymouth
–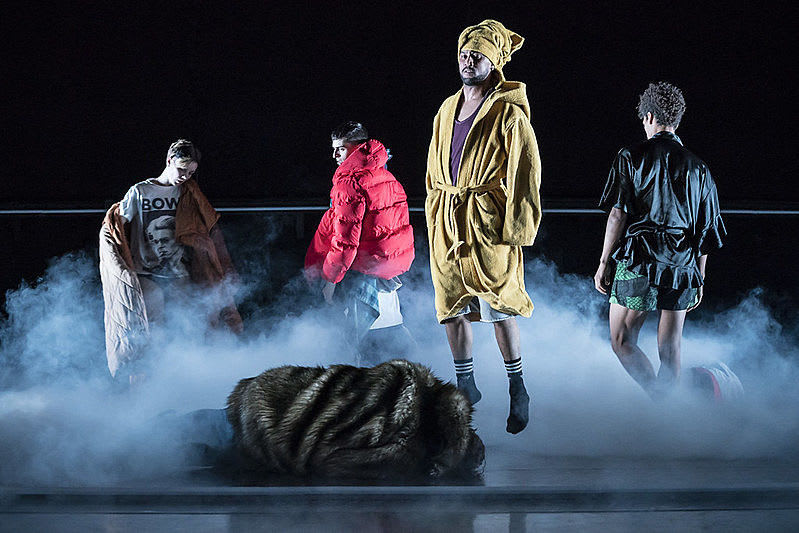 It's all change at Rambert as Benoit Swan Pouffer opens his tenure as Artistic Director with a triple bill showcasing superb dancers but with a disappointingly somewhat samey selection featuring three breakthrough pieces.
Internationally renowned dance artist (Alvin Ailey American Dance Theatre) and company leader (Cedar Lake Contemporary Ballet) Pouffer revives Wayne McGregor's commissioned—and at the time shocking—PreSentient; introduces Marion Motin from the worlds of fashion and hip hop with her debut Rouge, and closes with award-winning Sadler's Wells Associate Artist Hofesh Shechter (OBE)'s early piece In Your Rooms.
As the revered dance company heads fast toward its centenary, there is nothing aged or staid here as jitters and jerking, agility and athleticism abound without narrative.
PreSentient was experimental and exciting in 2002—and remains thrilling but more routine today. Newly promoted from Rambert 2, Salomé Pressac impresses with a haunting opening solo accompanied by a live string orchestra excelling with Steve Reich's Triple Quartet. Rather functional, limb-loosening pas de deux, trois and ensemble pieces drive home themes of unemotional survival and sex with creativity and routine reflected in Lucy Carter's imaginative lighting and Ursula Bombshell's lavender uniform.
Next up is Motin's Rouge. Bringing her music video experience to bear, dry ice rolls across collapsed and collapsing dancers costumed from the Bowie dressing-up box in diamonds and suits, turban and football shorts, fur boots and kimono, Spanx and feather boa. And all the while, with hat smoking and leather coat swirling about his ankles, lone guitarist Ruben Martinez channels Micka Luna's throbbing score.
An overlong intro—surely there is only so much falling over and getting up that can capture the attention—gives way to seven dancers shedding their clothes to experiment with individualism and homogeneity with gentle entwining and combative attack.
Glaring coloured lines—black, red, white and turquoise by turns—provide boundaries while bathed in red and black, awkward stances and crouched shapes are a Heironymus Bosch nightmare or an engineered ensemble.
Even unity is overlaid by personality—athletic or camp; erratic or bolshy—with Joaquim de Santana, Brenda Lee Grech and Edit Domoszlai particularly drawing the eye.
Leaving the best till last, Hofesh Shechter's distinctive style is diluted somewhat by the evening's predecessors but In Your Rooms, commissioned in 2007 by The Place, Southbank Centre and Sadler's Wells, is loud and brash featuring drums and strings from a lofty quintet. The now-expected voiceover talks of the cosmos and lack of natural harmony, of structures morphing into buildings, society, words and more.
The sibilant narrator reckons he can do better and wants to start again, only to admit he can't as 12 drably-dressed and be-socked dancers stretch and explode, touch and writhe.
Dark and grim, vulnerability and loss of control is explored as Shechter's original score (created in collaboration with Nigel Catchpole) pulsates and repeats. Moody and magical.
Reviewer: Karen Bussell