World View Tour 2008
Rambert Dance Company
Theatre Royal, Newcastle, and touring
(2008)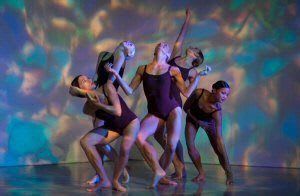 Quite a mixture! And that's not just the four pieces from Rambert's current repertoire which were performed at the Theatre Royal. A very quick glance at the programme showed that the first piece, Melanie Teall's L'eveil, was to be danced to music by Kurt Weill ((Je ne t'aime pas) and Leslie Bricusse (Feeling Good), as odd a combination as you're likely to come across.
But it worked - and a word of appreciation should go to the singer Yolanda Grant-Thompson, whose beautifully rich voice added a lot to the enjoyment of the piece, and the musicians of the London Musici.
L'eveil, danced by six women, explores the theme of femininity. In some ways the piece is almost sculptural, aided in no small measure by sensitive and effective lighting by - but unfortunately the programme does not mention the lighting designer, (s)he being the only one to be omitted. This is non-narrative dance at its best with the dancers' images of the feminine complemented and expanded by the music, along with the lighting and the simple, almost basic costumes.
Doug Varone's Scribblings, the second piece, is danced to John Adams' Chamber Symphony, played by the London Musici. It opens with a huge light fixture swinging just above head height whilst the dancers scuttle and skitter below. There is a cartoon-like feel to the piece with just a touch of cartoon anarchy in the explosion of energy which seems to swirl and burst out in all directions.
The third piece is an old favourite. It is hard to believe that Christopher Bruce's Swansong is nearly 21 years old, for it retains its freshness and resonance. With Abu Ghraib fresh in our minds, this exploration of mental and physical torture with its ambiguous ending is as relevant today as it was in 1987. Danced superbly by Thomasin Gülgeç (as the Victim) and Eryck Brahmania and Hubert Essakow as the Guards, it held the audience spellbound. I am firmly of the opinion that its time under Bruce's direction was Rambert's finest hour and this revival served to confirm that.
The final piece, Garry Stewart's Infinity, explores the individual's passage through the world. Stewart tells us that advanced yoga and gymnastics were major influences, as were the grotesqueries of Butoh, and all are clearly visible in the movement language of the piece which is almost manic in its energy.
Definitely a real mixture, and one which shows the company and its dancers at their most versatile. Their physical prowess, their control and their versatility confirm Rambert as not only one of the UK's but also one of the world's top contemporary dance companies.
Rambert is at the Theatre Royal until 5th April, and then move on to Clwyd Theatr Cymru (8th - 11th April) and Sadler's wells (20th - 24th May).
Reviewer: Peter Lathan