Romeo and Juliet
William Shakespeare
Royal Exchange Theatre, Manchester
(2005)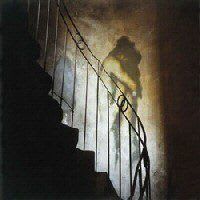 Jacob Murray's production of Shakespeare's most popular love story is set in Italy in 1961 with a design by Ellen Cairns strongly influenced by the films of Fellini. The title characters are played by two young actors who have recently made notable debuts at the Royal Exchange: Andrew Garfield, who won a Most Promising Newcomer award for his performance in Kes last September and Gugu Mbatha-Raw, who appeared in Antony and Cleopatra in February.
Garfield and Mbatha-Raw are both excellent in the lead roles. Their affection and passion builds convincingly, especially during the 'balcony scene' (which does not use a balcony and does not lose anything from its absence) to a physical and emotional intensity that is extreme but which develops naturally. Garfield in particular has great stage charisma and will very quickly go from 'promising newcomer' to 'rising star' and beyond.
There are some very good performances from other members of the cast as well. Maggie McCarthy is very lively and funny as Juliet's nurse, but then her performance in the scene when she believes Juliet to be dead is heartbreakingly sad. Paul Herzberg gives a very strong performance as Lord Capulet with very good support from Pooky Quesnel as his wife. Faz Singhateh plays convincingly a Tybalt filled with anger and testosterone, and then is made to lie still on a stone slab in Juliet's tomb for the whole of the last scene.
While most of the play is compelling to watch and at times quite exciting, the scenes between 'the lads' - Mercutio, Benvolio and Balthasar, or Sampson and Gregory - just do not come to life as they should and seem to be filled with lots of unnecessary, aimless movement. John Watts as Friar Laurence gives a very clear reading of the text, but his performance seems at times to belong to a different generation of Shakespearean performance to most of the others in the cast.
As so often with a design concept in Shakespeare, the design concept of this production does not add anything to the play, but then it does not distract from it and works nicely just as production design. Malcolm Ranson's fight sequences are very impressive and well-executed, adding nicely to the edge-of-the-seat tension during key moments of the play. Choreography by Shobna Gulati, best-known for playing Sunita in Coronation Street, is simple but very effective in the Capulet ball scene.
Director Jacob Murray recently showed his mastery of pace for comic effect with his production of Neil Simon's Come Blow Your Horn. For Romeo and Juliet he demonstrates the same skill for dramatic pace as he manipulates his audience from laughter to excitement to tears. This is a slick and entertaining production from the Royal Exchange that played to a packed opening night audience and deserves to do as well for the rest of its run.
"Romeo and Juliet" runs until 22nd October 2005
Reviewer: David Chadderton