Romeo and Juliet
William Shakespeare
Octagon Theatre, Bolton
(2011)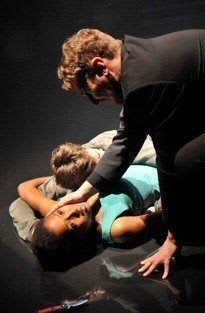 David Thacker's Romeo and Juliet, opening the spring 2011 season at the Octagon in Bolton, is in modern dress with the young people in jeans and sports tops, the parents dressed as rich businessmen and the nurse as a fashion-conscious 'lady who lunches', who even appears in the second half laden with Gucci shopping bags. A rather sneaky change to the prologue to refer to the "three-hour traffic of our stage" turns out to be pretty accurate.
Designer Ruari Murchison has given the production a minimal setting in the in-the-round space, with just a shiny black floor (that produces some blinding reflections if you are sat in the wrong place) with a balcony that resembles a diving board at one side and just enough furniture for some scenes to establish the location, which focuses attention strongly on the acting and the text.
As far as the delivery of the lines is concerned, two actors stand out as the ones who best achieve that difficult balance between preserving the beautiful lyricism of the poetry and making the words flow almost like natural speech. Rob Edwards as Capulet is sometimes, perhaps, a little too dismissive with some of his lines, but his complex character is explored fully and his speech is always natural and easy to understand. Jade Anouka is a beautiful, playful and sometimes funny Juliet—her scene of nervous wittering is much funnier, more comprehensible and more successful than that of Michelle Collins as the nurse—who somehow balances these four hundred-year-old words with elements of a modern teenager and makes it work.
David Ricardo-Pearce is a modern, young, happy-go-lucky Romeo who seems rather nervy and fidgety and misses the dark, brooding side of the character. Jake Norton certainly brings some intense brooding to Tybalt, and Lloyd Gorman's Benvolio is also very intense and seems to overreact to everything. Colin Connor is a stern and humourless Friar Lawrence, Tobias Beer makes the best of the small but important character of Paris, Kieran Hill's Mercutio convinces when he loses his temper more than when he is being playful and Paula Jennings plays Lady Capulet as the rich man's wife who tries to remain emotionless and dignified whatever happens.
There are some effective fights staged by Terry King, although penknives are never able to achieve the same level of spectacle and danger as a sword even in such an intimate environment. Having Romeo chat to nearby audience members during the balcony scene as though he were asking their advice worked quite nicely, but the odd ending didn't work, prompting even an audience that knew what it was listening for to clap before the famous final lines were delivered. There is a bit of actor-musicianship, which the Octagon often likes to incorporate into productions and knows how to make it work, in the Capulets' ball scene, where a beautiful violin solo gives way to some bland rock music with a dull, bass-heavy sound.
Overall it is a competent if unremarkable Romeo and Juliet with some nice touches but nothing to really inspire or excite.
Running to 5 March
Reviewer: David Chadderton