Romeo and Juliet
William Shakespeare
Pilot Theatre Company
The Corn Exchange, Newbury, and touring
(2011)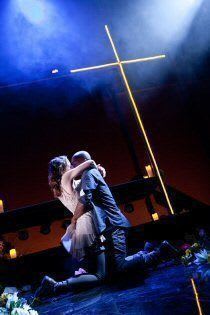 This is the first time that Pilot Theatre Company have toured to the Corn Exchange and the first time they have attempted Shakespeare and their vibrant stunning interpretation of Romeo and Juliet is an absolute gem.
Chloe Lamford's striking set design is impressive. A black raked stage littered with 600 bunches of flowers leads to black frames that are outlined in blue neon like lights forming Juliet's bedroom, balcony and church highlighted by flickering candles.
The story of the star-crossed lovers is as relevant today with its gang warfare, knife crime and teenage angst against their parents. Pilot's fast moving contemporary interpretation is ideal for their targeted teenage audience.
Gone are the loud techno thudding soundscape and multi media projections of their last production of Lord of the Flies and instead there is a more subtle eerie music by Sandy Nuttgens that underscores the action.
The cast is cut to eight which means some doubling up of parts which was handled well. Oliver Wilson was an arresting Romeo whilst Rachel Spicer, in her first professional role since graduating from RADA, perfectly captured the petulance and passion of a stroppy 14-year-old teenager who has fallen in love. The balcony scene was beautifully acted as the chemistry between them became charged.
Louisa Eyo's Caribbean Nurse was a delight. The conflict between the swaggering Mercutio (Chris Lindon) and the fiery Tybalt (Richard James-Neale) who also plays the tattooed hippy Friar Lawrence was electric.
The story starts at the ending of the play with both Romeo and Juliet lying dead in the Church. It is told through Lady Capulet's eye, an imposing performance by Mary Rose. Both her grief and that of Capulet (William Travis) at the loss of the two lovers was palpable as was the inevitability and shame of the two quarrelling family dynasties.
Co-directed by Marcus Romer and Katie Posner this Romeo and Juliet was a fresh, raucous and exuberant production that was performed at a rattling pace and was enthusiastically received by the young audience who whooped and stamped their feet in appreciation.
Pilot's mission statement is to "enable, train and provide opportunities for young people starting out on their journeys" and they certainly have achieved that and brought Shakespeare to life for their youthful audience. Recommended.
Reviewer: Robin Strapp