Romeo and Juliet
William Shakespeare
Taking Flight Theatre Company
Roath Park, Cardiff, and touring
(2010)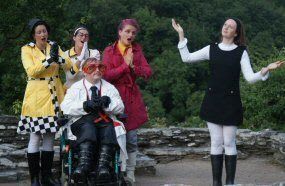 Cardiff's Taking Flight is an inclusive theatre company dedicated to staging accessible, outdoor productions. Co-founded by Artistic Directors Beth House and Elise Davison, the company has established a strong track-record in Cardiff for beautifully designed, high-impact outdoor theatre with inclusive casts.
Their current production is an outdoor, promenade Romeo and Juliet. A wandering minstrel (Thomas House) leads the audience through the park, and scenes are perfectly set in a succession of shady glens and formal rose gardens; the branches of a gnarly tree make for a beautifully memorable balcony scene.
The inclusive cast have an infectious energy. Elise Davison's direction and Becky Davis's design bring the production to life in a blaze of fun and colour and song.
Anja Conti makes her professional debut in style as a captivating Juliet, well-matched by Samuel Bees' Romeo. Beth House is a fine Tybalt, who spits with a feline fury in the fight scenes. Neil Hancock is a marvellous Friar Lawrence, whose passion for his herbs leads him into flights of drug-addled fancy. And Chloë Clark's larger-than-life nurse brings plenty of fun. Abigail Hiester is mesmerising as the production's BSL interpreter, fully integrated into the action, and all the more affecting for it.
If the performances lack subtlety at times, the vigour and vibrancy of this production is more than enough to keep its audiences enthralled. Taking Flight have mastered the art of staging an outdoor promenade production. As the audience is led through the park for another scene, glimpses can be caught through trees and rose bushes of the characters who have just exited, still rapt in the aftermath of the preceding scene. It's this attention to detail, this fluidity, which lends this production its magic.
Tours to Caerleon Amphitheatre; Neath Abbey; Kidwelly Castle; Tintern Abbey; Blaenavon Iron Works; Loggerheads Country Park, Mold; Caernarfon Castle, Gwynedd; Rhuddlan Castle, Rhyl; Valle Crucis Abbey, Llangollen.
Reviewer: Allison Vale