Raoul
James Thiérrée
Barbican Theatre
(2009)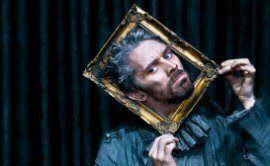 How often do you walk out of the theatre feeling like you can breathe more clearly? Or that the world around you is wondrous? Or that every single person out in that world is a fascinating specimen, full of contradiction, struggle, joy and potential?
James Thiérrée's latest show does all of those things, and much more. It is a powerhouse of a production, overflowing with immense sets and images, gentle humour and genuinely frightening physical risk-taking. Thiérrée explodes into the auditorium, climbing through the audience and tumbling onstage as he takes us on the wordless journey of the eponymous Raoul, a loner who is forced to engage with the outside world when his house begins to collapse around him.
He also plays Raoul's alter-ego - an explorer who seems intent on pulling his other self out from his insular world. What follows is a jam-packed adventure where we meet a giant sea-creature seemingly floating across the stage unaided, a depressive jellyfish and the ghost of a life-size elephant. Raoul struggles with dreams and nightmares, trying to keep control of his surroundings as his world falls apart and literally walks away by itself.
It is a spectacular 75 minutes, with each scene as surprising as the last, making us chuckle and sit back in wonder. Thiérrée seems to be able to duplicate himself and make things vanish like an old-fashioned magician. He is the conductor of an orchestra with Thomas Delot's soaring score echoing his every move. At the click of his fingers Jérome Sabre's lighting design illuminates and hides, lights the audience in an underwater green hue, and, in the final electric moments, provides the darkness needed to make Thiérrée fly.
Thiérée himself is a ball of energy with immense precision and control of his every move, despite how chaotic it may be. His limbs buzz with electricity as he flings himself up the metal structure that is his house, before tumbling down in minutely-detailed slow motion.
It is a total theatre experience, all the more affecting because it wears its heart on its sleeve. For all the spectacle and wonder, the piece is truly affecting because at its core is a truthful and moving human story.
Raoul represents all of us - complex, scared, full of painful history and desperately not wanting to accept that nothing is really in our control. As Thiérrée flies above the first few rows of the audience he reaches out and touches some peoples' hands. Yet he has already touched the entire Barbican audience - he has us eating out of his hands from word go.
Reviewer: Terry O'Donovan