Rapunzel
Choreography by Liv Lorent, scenario by Carol Ann Duffy, music by Murray Gold
balletLORENT
Gala Theatre, Durham
–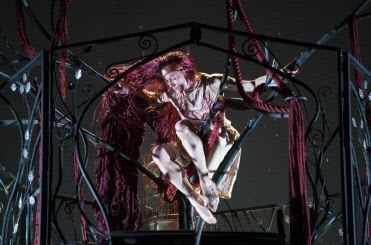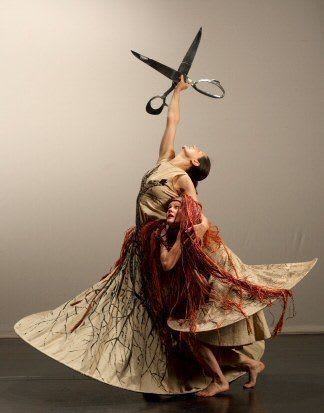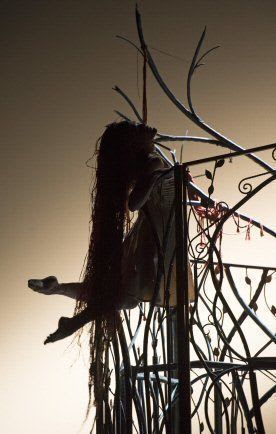 balletLORENT's new work is a sumptuous and entrancing retelling of the fairytale by the Brothers Grimm. Performed on a set (by Phil Eddolls) which is in many ways reminiscent of nineteenth century fairy story illustrations, and with costumes by Game of Thrones costume designer Michele Clapton which match the feel of the set, Rapunzel is perhaps the most balletic and romantic of Liv Lorent's work since LUXURIA.
That's not to say that it is in any way old-fashioned; indeed in it we can see much of Lorent's trademark movement language, some of which—such as climbing and hanging from overhead bars, as well as the reversal of gender roles in pas de deux—she explored in detail in la nuit intime.
But it is romantic, even though Carol Ann Duffy's scenario (spoken here by actress Lesley Sharp) does not shy away from the darker elements of the tale.
It does not, for example, just forget about Rapunzel's mother and father and the pain they feel on losing their child, but they remain there, always in the background, a reminder of the darker reality. And when the Witch gets Rapunzel, she can't let go as the child matures into a young woman. Her rage on discovering that Rapunzel has been seeing the Prince is, perhaps, an exaggerated version of the feelings of many parents as their daughter grows away from them and finds another love.
But the ending is, of course, happy—and the audience loved that!
The first night audience was very mixed, with ages ranging from under 10 to well over 70, and the buzz at the end was palpable. Everyone had enjoyed it thoroughly.
I was much taken by the opening, which felt like the first chorus scene of a panto in which the villagers and their children play, dance and generally enjoy themselves. There were five toddlers (with a parent) for that "Ah" factor and—which particularly impressed me—thirteen 11- to 17-year-olds (who attend the Centre for Advanced Training programme at Newcastle's Dance City) who were involved not just in the opening scene, nor just as supernumeraries in the body of the piece, but who were given some "real" dance to do throughout. They were an integral part of it all, and in fact had been involved in the creation of the piece.
But of course the whole weight of the piece falls on the performers and the balletLORENT dancers do not disappoint. It is truly an ensemble piece and it would be invidious (and, frankly, impossible) to pick out anyone for particular praise.
The production travels to Hull in November, Newcastle in February 2013, Sadler's Wells in March and Oxford in April, with other dates to be confirmed.
Reviewer: Peter Lathan