Rapunzel
Book, Music & Lyrics by Jez Bond & Mark Cameron
Park Theatre (Park 200)
–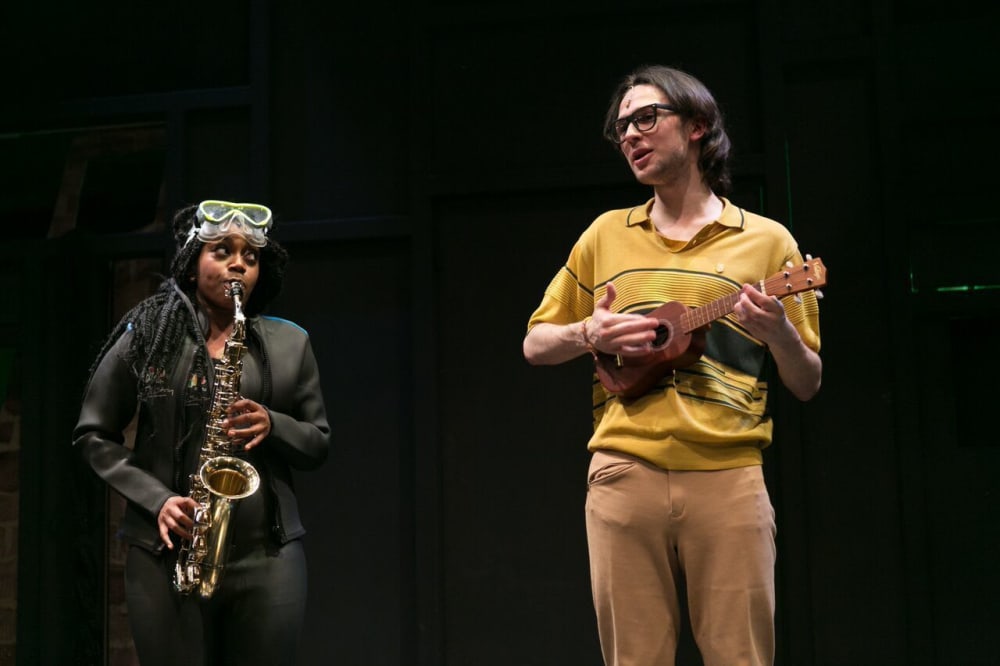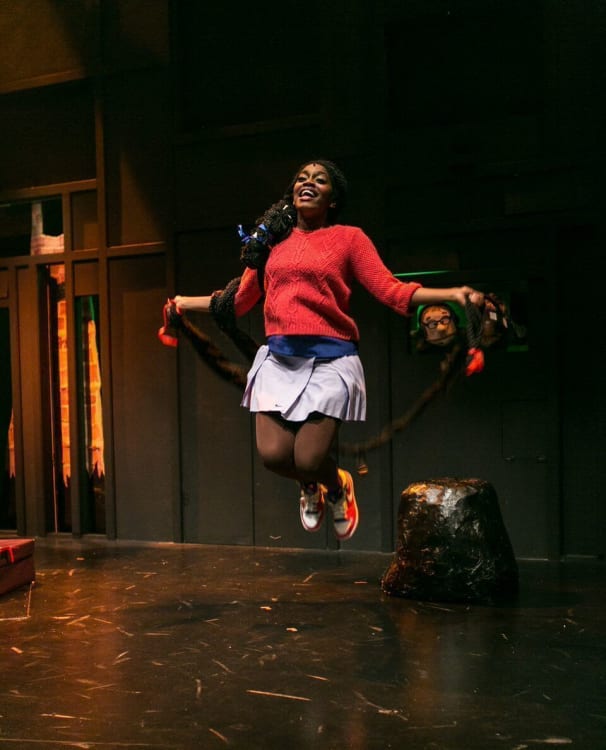 This idiosyncratic version of the Brothers Grimm story isn't a pantomime, though it has much of panto spirit. There 's no dame, no Fairy Godmother no demon, no elaborate settings and no song sheet but characters acknowledge the audience and there is a join-in sections of imitative action and a chance to join in in a celebratory song.
The baddie is a comic one but without any encouragement a packed house of infant school pupils booed him and frequently shouted an "It's behind you!" equivalent when the play's pair of fairies popped up somewhere.
Those fairies are a bit of an oddity. They aren't there to make magic: they are the narrators in the form of two puppet caricature radio commentators complete with earphones and microphones in a rectangular opening that could be a television set.
Like the Park's two previous Christmas shows, Rapunzel is set in the world of Waa; this time in the Kingdom of Püss Püss where the king and queen want an heir. For years they have been trying for a baby. Now Dr Chufflebanger (Avita Jay) is about to announce the result of a pregnancy test. It's positive. King Gerard (Rolan Bell) and Queen Gerardine are delighted and there is great rejoicing. Things take off with a lively musical number.
Now who is this, wheeling a supermarket trolley laden with stuff they are flogging? They are con artist the Great Gazombees and his sidekick Dobson. Mark Cameron's Gazombees is a duplicitous wideboy, Alex Hope's Dobson not such a bright one. At first they are quite likeable rogues but Gaz has his eyes on the crown. When the queen's life and that of her baby seem in danger, he passes himself off as Baron Teth and comes up with a remedy, a herb he says comes from a witch, but it comes at a price: handing over the baby.
There's no real witch in this version nor does the baby Rapunzel grow up letting her long blonde hair down for a prince to climb up to the tower where the witch has imprisoned her. This is no simpering princess but the sort of girl you want to know. She is clever and grows her black hair to climb down it herself. Nor is the prince (Alex Hope) like one out of Disney. His name is Corbyn and he's a republican who firmly believes in nationalisation. If that worries you, it shouldn't, for this is a Christmas show; there will a proper celebratory happy ending.
Jez Bond has written some delightful tunes including an action song that the audience picked up in an instance. Had these children learned it at school beforehand? No, a teacher assured me they hadn't. That says a lot about how well this company makes contact with its audience.
Too young to know the pregnancy test process, they still got the story. There are funny walks and silly words (too many, and some of the songs are too long too). For an adult audience, I'd say it needs cutting but it held these youngsters for two hours minus the interval. A few needed to nip out to the loo, hand held by teacher, but they were straight back again, caused not by boredom but excitement.
A black back wall, with some panels that can open for the puppets to pop through, covers the back of the theatre, the only noticeable décor flowers and an umbrella hanging from above and some national banners that can be unfurled. It throws focus on the actors but is not an obvious comic setting; the actors' energy makes up for that.
The writing is not nearly as funny as perhaps the writers think, but that's typically true of children trying to be comic and they seemed on target for their audience and an adult should indulge it. For a family outing, however, perhaps leave the older kids behind.
Reviewer: Howard Loxton